Best iPhone 15 Pro Max folio cases in 2023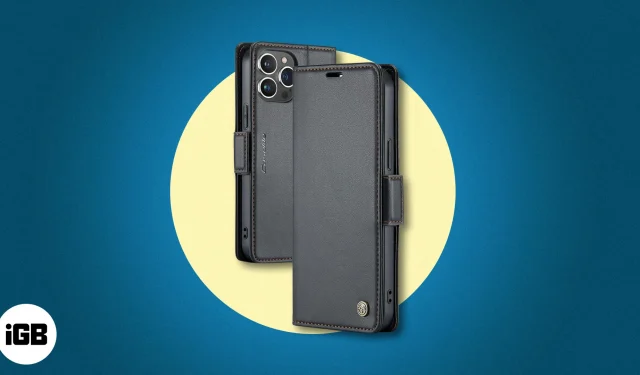 The iPhone 15 Pro Max features compelling technologies worth upgrading to. So, have you upgraded your previous iPhone to iPhone 15 Pro Max? Sticking to our culture of giving you the best accessories upfront for each Apple event, here are the best iPhone 15 Pro Max folio cases.
1. Nomad Modern Leather Folio Case – Editor's Choice
We have had super-smooth experience with Nomad leathers, and this iPhone 15 Pro Max folio case does not fall short of our expectations. Made of full-grain leather that develops a unique patina over time, this case has a lustrous sheen that gets even better with age.
The anodized aluminum buttons are counter-fade and complement the leather, making the controls accessible throughout your iPhone's lifespan. If you have a wrist strap or lanyard, you can attach it to the lanyard attachment holes on the bottom edge of the folio case.
We also appreciate its MagSafe charging support, made easy with the neodymium magnet on the back. Featuring microfiber lining, a Polycarbonate frame, and an all-around Thermoplastic polyurethane (TPU) bumper with raised edges around the screen, the Nomad Modern Leather Folio lets you use your iPhone on the go with up to 8-ft drop protection.
Additionally, the closure has extra slots for keeping your cards and cash. A magnetic clasp folds over the closure spine to easily detach the folio case.
Pros
Raised edges provides up to 8-ft drop protection
The full-grain leather provides a unique aging experience
Durable and easy to carry
Extra card and cash slots are available
Cons
2. Snakehive Vintage Wallet – 12-month warranty
The iPhone 15 Pro Max is already classy. But the Snakehive Vintage wallet makes it stand out, and it is available in different colors. The wallet is European Nubuck leather with a suede-like finish, giving it a super-fine texture that gets better with age. It has raised edges around the screen and camera regions – made with durable TPU for adequate fall support.
This one also has three inner slots for cards and cash. The inner fleece is flexible to protects the iPhone 15 Pro Max's screen from scratch. With the kickstand, you can tilt your iPhone in landscape mode to see your favorite shows.
Pros
Kickstand for landscape viewing angle
Quality leather with Latina pattern
Extra slots available
TPU raised edges and soft inner fleece protects the iPhone 15 Pro Max
Cons
It feels bulky on the magnetic flap
3. Shieldon Case – Lifetime replacement warranty
The Shieldon folio case for iPhone 15 Pro Max is nothing short of durability with the genuine outer leather and inner snug-fit TPU bumper. The surrounding raised edges protect the camera and screen regions. It supports wireless charging, and the case is smoother on the spine with a magnetic closure.
It features extra inner compartments, including a cash groove and RFID-blocking slots for keeping cards. If you want to use the iPhone 15 Pro Max in landscape mode, mount it on the adjustable kickstand. The Sheildon case comes in up to different colors. So you have ample choice to pick.
Pros
Kickstand allows different landscape viewing
Anti-RFID inner slots
Different colors are available
Cons
The inner slots adds extra bulkiness
4. The Case-Mate Wallet Folio – Lifetime warranty available
Made with pebbled genuine leather and an inner impact-absorbing Polymer, the Case-Mate Wallet Folio case for iPhone 15 Pro Max is a true definition of quality polished with elegance. The raised bezels and cushioned corners provide up to 12-ft drop protection.
Although the Case-Mate folio wallet is expensive, it's worth the price with MagSafe wireless charging support made possible with the built-in magnet. This feature lets you pair your iPhone easily with other accessories, including a car mount, battery packs, and pop sockets. As expected, you get three extra slots for cards and cash with RFID-blocking technology to prevent identity theft.
Pros
MagSafe spot with support for accessory connectivity
Extra inner slots with anti-RFID technology
The pebbled leather and raised bezels protects your iPhone 15 Pro Max
Cons
5. The SINIAL Folio Case for iPhone 15 Pro Max – Best for seniors
The Sinial folio case is stylish. But its entire design feels ideal for seniors. However, despite being one of the cheapest folio cases on our list, the Sinial Folio case delivers the desired value with wireless charging. Made with soft synthetic leather and an inner TPU lining, your iPhone 15 Pro Max will get all the protection it needs.
The Sinial folio case is easy to assemble, and the inner TPU lining is detachable from the bulk. Three extra pockets with anti-RFID allow you to keep your cards and cash. With the adjustable kickstand, you can use your new iPhone 15 Pro Max from different viewing angles.
Pros
It supports MagSafe charging
Extra pockets with anti-RFID
Adjustable kickstand allows phone usage in landscape mode
Available in five different colors
Cons
Entire design could be better with natural leather.
Wrapping up…
Although a folio case might hide your iPhone's elegance, it hurts more if you lose your device's beauty to fall or scratch. While the iPhone 15 Pro Max is durable, it doesn't stop it from getting damaged when it falls. A folio case protects it even better. Did you buy a folio case for your iPhone? Let us know your choice in the comments below.