Best iPhone 15 Pro Max leather cases in 2023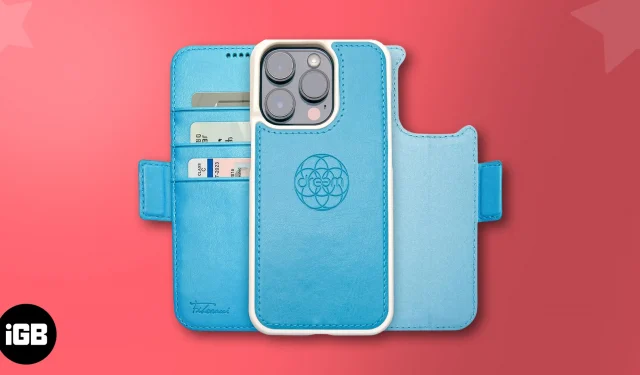 As Apple continues to redefine the boundaries of innovation with the iPhone 15 Pro Max, it's only fair that you pair your device with a case that fits best your purpose. Further, while Apple has severed ties with leather, I know you haven't. So, in this article, I have highlighted the best iPhone 15 Pro Max leather cases that combine style and protection. Without further ado, let's get started!
1. CYRILL Kajuk Mag for iPhone 15 Pro Max – Editor's Choice
If you are in the market for an iPhone 15 Pro Max leather case, then you can't miss out on the CYRILL Kajuk Mag leather case – a deadly combination of style and functionality. This top-of-the-line accessory is crafted with genuine leather and will undoubtedly add a new level of sophistication to your device. The brushed metal plates portraying the CYRILL logo impart an elegant appeal.
The inner layer of this case is made up of PU Vegan leather that is dedicated to safeguarding your iPhone from accidental bumps and drops. Additionally, the raised edges around the camera and screen provide extra protection against scratches and scrapes.
The CYRILL Kajuk Mag leather case is an excellent choice for iPhone 15 Pro Max users who value both style and durability in their phone case. This case is enriched with exceptional craftsmanship, sleek design elements, and reliable protection, making it one of the best options available.
Pros
Climate pledge friendly
Multi-layer protection
Grease resistant
Wrist strap hole
Cons
2. LONLI Classic European Nappa leather case – Must buy!
The LONLI Classic European Nappa leather case is one of the best iPhone 15 Pro Max leather cases out there, setting a new standard for style and protection. Crafted with superior European Nappa leather, this case exudes elegance and sophistication. The rich texture and exquisite craftsmanship of the leather elevate the overall aesthetic of the phone.
More importantly, it offers exceptional durability and safeguards your device against accidental drops and scratches, ensuring peace of mind for professional users. The precise cutouts for the Action button and other rockers guarantee easy access to all ports and buttons without compromising on functionality.
Additionally, its slim profile allows for a comfortable grip while adding minimal bulk to the device. With its meticulous attention to detail and timeless design, the LONLI Classic European Nappa leather case is undoubtedly a premium choice for professionals seeking unparalleled quality and style in their iPhone 15 Pro Max cases.
Pros
Minimal yet refined
Compatible with MagSafe
Genuine leather
Raised edges
Cons
3. WTCASE designed for iPhone 15 Pro Max- The 2 in 1 cover
With so many leather cases surfing the market, it's hard to make a choice. However, WTCASE is here to make this decision easy for you. This case is the seamless combination of precision and attention to detail. The genuine leather used to craft this masterpiece ensures the longevity and durability of your iPhone 15 Pro Max.
As a result of its sleek design, this case perfectly fits over the curves of the iPhone 15 Pro Max, ensuring maximum protection against scratches, bumps, and everyday wear and tear. I personally believe that adding a leather case to your device provides a better grip and a touch of sophistication.
The case has precise cutouts for easy access to all buttons and ports while providing protection and aesthetic appeal. WTCASE has undoubtedly set the standard for luxury iPhone accessories with their Best Leather Cases tailored specifically for the iPhone 15 Pro Max.
Pros
Easy to install and remove
Strong magnetic attraction
Shockproof and durable
Cons
Available in only two variants
4. Dreem Fibonacci iPhone 15 Pro Max wallet case – 2-in-1 Shockproof MagSafe Case
If you're a clumsy one or keep on forgetting their belonging here and there, then this case can be a lifesaver for you. Dreem Fibonacci iPhone cases are widely regarded in the market for providing superior device protection and convenience. With multiple features, it could remind you of a folio case for iPhone 15 Pro Max.
Curated from genuine leather, the Dreem Fibonacci case for iPhone 15 Pro Max enriches the users with a luxury feel and sophisticated look. On the inside, the case is composed of multiple card slots, a cash pocket, and even a detachable slim magnetic phone cover for added convenience. Best of all, the RIFD blocking technology incorporated into the case prevents unauthorized access to cards.
With its slim profile and sleek design, it complements the aesthetics and practicality of the iPhone 15 Pro Max without compromising on style. So, what are you waiting for? Experience sophistication and functionality with the Dreem Fibonacci iPhone 15 Pro Max wallet case.
Pros
Ample storage and easy access
Versatile and unique
RFID blocking technology
Cons
Prone to stains and marks
5. Mujjo shield leather iPhone case – Ultimate impact resistance
For those seeking a luxurious and protective iPhone 15 Pro Max accessory, your search has met its end. Embrace the beauty of Mujjo and complement your device with nothing but the best. Through its plain and basic design, this case promotes an air of sophistication while ensuring durability and longevity.
The aging quality of the case further adds character to the case as time passes. Creating a unique patina that reflects the user's style and usage patterns will undoubtedly add subtle beauty to your iPhone. Due to its slim profile, the case perfectly fits the contours of the device without adding extra bulk.
The raised edges provide extra protection for the screen and camera, shielding them from accidental impacts or drops. For discerning professionals seeking optimum protection and timeless elegance for their valuable devices, the Mujjo Shield Leather iPhone case offers superior functionality and quality craftsmanship.
Pros
Drop protection rated to 15 feet
MagSafe compatible
Enhanced durability
Full-grain vegetable-tanned leather
Cons
Safe and elegant!
Elevate your iPhone experience with one of these exquisite leather cases and indulge in a seamless fusion of sophistication and security. Whether you prioritize minimalist design or crave the opulence of genuine leather, these cases offer a harmonious blend of form and function. With each case, you're not merely protecting your iPhone; you're enhancing its allure and ensuring its resilience.
Thank you for reading. Please take a moment to leave your thoughts in the comments below.