Best iPhone 15 Pro Max MagSafe cases in 2023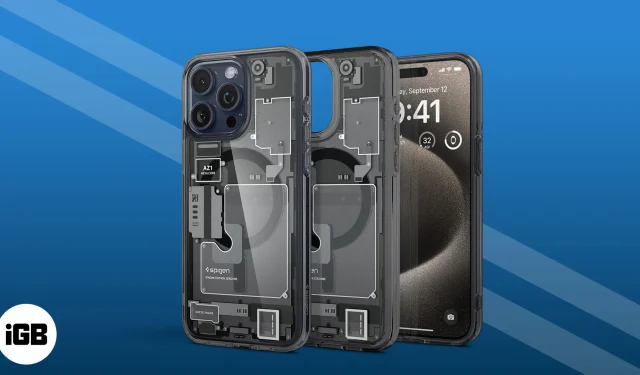 I see you've got a flagship device, and I know keeping it safe is a priority. You might also be looking to charge it wirelessly for a more premium and advanced user experience. That's where a MagSafe case comes in – it can act as a loyal sidekick to your iPhone 15 Pro Max. There's no need to search high and low, as I've got you covered. Check out my top picks for the best iPhone 15 Pro Max MagSafe cases below.
1. Apple FineWoven case – Editor's Choice
Apple's FineWoven case is like a cozy, eco-friendly jacket for your phone. It's made from solid material and is suitable for the environment because it uses recycled stuff and doesn't add to pollution as leather cases do.
This case is excellent because it fits your phone perfectly, making it safe without making it bulky. Plus, it has magnets inside that work perfectly with your iPhone 15 Pro Max, making charging super easy.
All you need to do is attach the case to your iPhone and use a MagSafe charger or your regular charger that's certified by Apple. It's easy to charge every time. And don't worry, it's not just pretty. Apple tested it a lot, so it can handle scratches and drops without any problems.
Pros
Durable and luxurious
Soft-touch, woven nylon exterior
A soft microfiber lining protects scratches and bumps
Available in a variety of colors
Cons
It is more expensive than some other MagSafe cases
2. Spigen MagFit case – Unique and elegant design
The Spigen magnetic ultra-hybrid MagFit case for the iPhone 15 Pro Max is a beneficial tool for your phone. It's see-through on the back, so you can still admire your cool iPhone, and it works really well with MagSafe.
If you're worried about your phone sliding around when you're on a bumpy ride, don't worry. This protective MagSafe case has a raised edge that keeps your screen and camera safe. This way, you can efficiently charge your device even when it's on a wireless charger.
What makes this case notable are the buttons on the sides. They're easy to press and make a satisfying click sound, so you'll know when you've pressed them. Plus, if you're clumsy and accidentally drop your phone sometimes, this case has Air Cushion technology that helps absorb the shock. It's like a cushion for your phone!
Pros
Strong magnetic ring
Slim and lightweight design
Durable construction
Ergonomic design
Cons
It can be challenging to put on and take off
3. ESR magnetic iPhone case – The Gen-Z protective cover
If you've got the iPhone 15 Pro Max and you're on the hunt for a solid MagSafe case, take a peek at the ESR Magnetic iPhone case. This case has precise cutouts for your speakers and ports and a tactile raise for your Action button. Plus, it's a good shield for your phone, and it lets you juice it up wirelessly.
What really makes the ESR case shine, though, are its super-strong magnets. They grip your phone like a champ, making wireless charging a walk in the park. There's no need to get it lined up perfectly; slap it on, and you're good to go. And it plays nice with all your MagSafe gear, giving you that sleek, futuristic vibe.
But it's not all about convenience; this case means business. It can take a beating thanks to its tank-like build and some extra cushions in the corners for protection. Plus, the back stays crystal clear and won't mess up the look of your iPhone 15 Pro Max while keeping it safe and sound.
Pros
Raised bezel around the screen and camera for added protection
Durable polycarbonate back and soft TPU frame
Slim and lightweight design
Affordable price
Cons
It can be slippery at times
4. Caseology nano pop mag – Affordable MagSafe case
If you're looking for an excellent and reliable iPhone 15 Pro Max case that works with MagSafe, the Caseology Nano Pop Mag is a great choice. First, this case looks good and has strong magnets inside that ensure your phone stays securely attached and perfectly lines up with MagSafe chargers.
Here's something to keep in mind: as you use the magnet charger over time, you might see some circular marks on the case. Don't worry; that's just a sign of the magnets' strength. But wait, there's more to this case than just magnets. It feels like silicone and fits snugly around your iPhone 15 Pro Max, keeping it clean from lint and dust while it's in your pocket.
The case comes in cool two-tone colors and has a raised ring around the camera to protect it. And guess what? It's tough like military gear, works with wireless chargers, and goes well with screen protectors. It's the perfect mix of style, usefulness, and toughness for your new iPhone.
Pros
Slim and light in weight
Enduring TPU substance
The bezel around the camera and screen is raised
Value for money
Cons
5. TOCOL MagSafe case – Ultimate drop protection
With the N52 magnetic ring at its core, this TOCOL case really locks in those MagSafe goodies with a grip that's 125% tougher than what comes in the box. Whether wirelessly charging or just giving your phone a good shake, this case ensures your iPhone stays in place, avoiding accidental slips.
This MagSafe iPhone 15 Pro Max case has the device's lens covered, all wrapped up in a slim and comfy design that won't make your sleek device feel bulky.
When it comes to protecting your iPhone, this case is like your device's guardian angel. Thanks to TPU cushioning and some heavy-duty 360° airbags, it's built with military-grade drop protection. It can handle drops as high as 15 feet, keeping your phone safe and sound.
Pros
Lightweight polycarbonate construction
Raised lip around the screen and camera for protection
Strong magnets
Compatible with all MagSafe accessories
Cons
Unsure about the durability
7. Kimguard silicone magnetic case – Swiss knife for iPhone 15 Pro Max
The Kimguard Silicone Magnetic Case for the iPhone 15 Pro Max is the case stick that fixes your device like glue, making it hassle-free to use your MagSafe accessories without constantly removing the case. It's like having a reliable sidekick by your side, always ready to jump into action.
The case is made of skin-friendly liquid silicone that looks great and feels comfortable to touch. Say goodbye to your hands, feeling like they've been in a wrestling match with your phone. Plus, it comes in 18 vibrant colors, so you can switch up your style whenever you feel like it.
Moreover, the case has raised edges around the screen and camera, so it can handle scratches and drops, giving your iPhone 15 Pro Max the protection it needs. And remember, when you go with Kimguard, you're not just getting a case. You're getting a lifetime companion with a Limited Lifetime Warranty. It's time to go with the best.
Pros
3-in-1 design protects the phone, screen, and camera
Unique tactile experience
Silicone material provides good drop protection
Variety of colors to choose from
Cons
It can become slippery if it gets wet
8. TORRAS magnetic slim-fit case – Your iPhone buddy
When you dive into magnets, the TORRAS Magnetic Slim-Fit Case for the iPhone 15 Pro Max really stands out. It's got a whopping 38 super-strong magnets that are basically the superheroes of the magnet world. It's compelling and way more robust than what you find in most phone cases.
But it's not just about the magnets; this case has some real magic when it teams up with MagSafe. It uses a nifty tech called the Pro-Magnetic Halbach Array, which means your wireless charging gets a turbo boost we're talking about as fast as 20W.
Additionally, it plays nice with all your MagSafe buddies, like leather wallets, wireless charging stands, and even in-car mounts. Picture it as a big MagSafe party, and your iPhone 15 Pro Max is the life of the party. If you're up for a sleek, stylish, and super high-tech case, TORRAS has your back.
Pros
Military-grade drop protection
Raised edges around the screen and camera
Translucent matte finish
Budget-friendly
Cons
Case may not be compatible with all MagSafe accessories
MagSafe is where it's at!
You've probably noticed that MagSafe is now a regular thing on iPhones. It's a cool feature that comes with all the latest models. Whether you're a fan or not, it's a nifty addition to Apple's lineup of user-friendly gadgets.
Let me know which one you picked in the comments section below!