Best iPhone 15 thin cases in 2023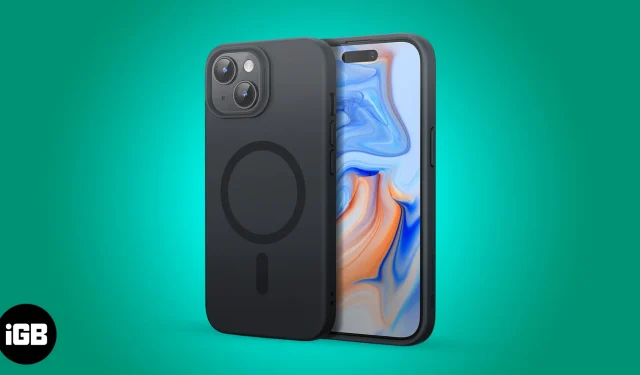 With the latest technological advancements, the iPhone 15 has become the new pinnacle of innovation and design for base variants. So, if you have one, you must protect it without compromising on aesthetics. And that's where iPhone 15 thin cases come into play. Find the perfect balance of style and functionality with this presentation of the best iPhone 15 thin cases.
1. Spigen thin fit case for iPhone 15 – Editor's Choice
It's only fair that your devices look good like you do, and Spigen makes that possible. With a sleek and minimalist design, this case provides reliable protection against everyday wear and tear while maintaining a sleek and minimalist aesthetic.
It is made of high-quality polycarbonate material, ensuring durability without compromising weight or bulk. With precise cutouts, all ports and buttons are easy to access, while raised edges provide an extra layer of protection for both the screen and camera lens.
Moreover, the matte finish of the Spigen thin fit case enhances grip and prevents fingerprints or smudges, allowing your device to stay pristine at all times. The iPhone 15 case is, without a doubt, the best choice for those looking for an elegant case with exceptional build quality.
Pros
Hybrid structure of PC and TPU
Matte finish coating
Scratch resistant
Tactile buttons for solid feedback
Cons
2. ESR iPhone 15 cloud soft case – MagSafe supported
The ESR iPhone 15 Cloud Soft Case is one of the best slim cases for iPhone 15 available in the market today. The high-quality TPU material used in the construction of this case ensures an optimal balance of flexibility and durability.
As a result of its ultra-thin design, this case adds minimal bulk to your iPhone without compromising the safety against scratches, scuffs, and accidental drops. Best of all, the slim profile allows for easy access to all ports and buttons without hindrance. A raised edge around the camera and screen areas provides comprehensive protection against damage.
With utmost precision, this case ensures compatibility with wireless charging while maintaining unobstructed signal reception. With its impressively slim design, the ESR iPhone 15 cloud soft case does more than enhance the aesthetic appeal of your device.
Pros
Military-Grade Protection
Velvety-soft lining
Easy-press buttons
Cons
3. totallee iPhone 15 thin case – Minimalistic design
For those seeking a minimalist sleek case for their iPhone 15, the totallee iPhone 15 thin case is an excellent option. With an elegant design that perfectly fits your iPhone 15, it is made using high-quality materials. All buttons, ports, and speakers are easy to access thanks to the case's precise cutouts.
With its precision-crafted design, this case provides a slim profile while retaining essential features to shield your mobile device from scratches, dust, and minor impacts. The simplistic finish preserves the phone's original aesthetic while safeguarding it against everyday wear and tear.
The thin yet durable construction of this case provides superior protection for your iPhone while preserving its sleek appearance. If you're someone who values style and practicality, the totallee iPhone 15 case offers protection in an understated package.
Pros
Ultra-thin design
Nearly weightless
Works with MagSafe wireless charging
Perfect fit guaranteed
Cons
4. Case-Mate – Magnetic cover with soft silicone material
The Case-Mate silicon black iPhone 15 case emerges as one of the best options for those carving a unique combination of elegance and protection. This case hugs the curves of your device without any hassle while providing a comfortable grip.
The matte black finish exudes professionalism and sophistication, elevating the device's aesthetic appeal. In spite of its slim design, it maintains durability, protecting your phone from everyday bumps and scratches. Ports and buttons are also easily accessible due to precise cutouts.
Apart from offering reliable drop protection, the case features enhanced shock-absorbing properties. With a perfect blend of form and function, the Case-Mate silicon black case for iPhone 15 offers a stylish and practical solution.
Pros
12 FT drop protection
Made with recycled materials
Compatible with MagSafe
Tactile buttons
Cons
Check out on: Amazon | Case-Mate
5. OtterBox – Ultra-sleek and pocket-friendly
Finally, for those who like to pair their devices with sleekness and a pinch of style, OtterBox has got you covered. The seamless combination of a sleek profile and superior drop protection is created with precision and designed to perfection.
With its soft-touch finish, the phone is not only comfortable to hold, but it also adds an elegant touch to the overall design. The one-piece design makes installation easy while precisely cut openings facilitate easy port and button access.
These promises are made only after the case undergoes rigorous testing against drops and impacts, delivering military-grade protection. For professionals who prioritize functionality and elegance in their smartphone accessories, OtterBox's Symmetry series soft touch case is a perfect fit.
Pros
Feels as luxe as it looks
Clicks with MagSafe
Slim form factor
Cons
Sleek your way into style!
Whether you prioritize a minimalist look, a robust defense, or a touch of personalization, there's a thin case on our list to suit your needs. With these cases, your iPhone 15 can remain a symbol of cutting-edge technology while staying safe from the challenges of everyday life.
Thank you for reading. Please take a moment to share your thoughts in the comments below.