Best MagSafe wallets for iPhone 15, 14, 13 and 12 lineup in 2023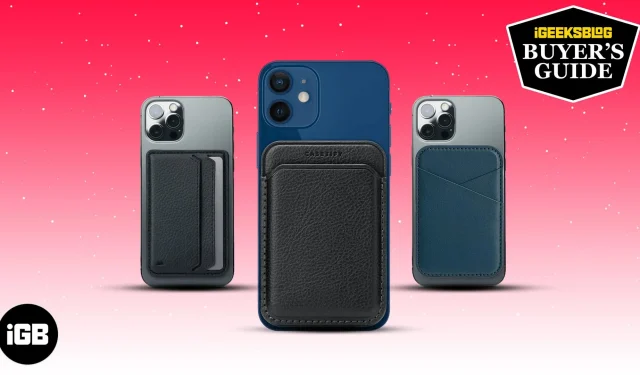 When Apple first launched the iPhone 12 series with MagSafe in 2020, there were limited compatible accessories. But now, many brands have introduced some great products, such as iPhone leather wallets with MagSafe. You can use these to hold a couple of credit cards or other small essentials along with your iPhone 15, 14, 13, or 12 devices!
They attach magnetically to the back of your iPhone models with or without a MagSafe case, so you're never without your cards. So, they can be a good alternative to wallet cases. Let's learn more and check out the best MagSafe wallets for the iPhone 15, 14, 13, and 12 models.
1. Apple iPhone leather wallet with MagSafe – Editor's choice
There's nothing that matches an original Apple accessory in quality and utility. This sleek iPhone leather wallet with MagSafe is crafted from fine European leather for a flawless finish. At the same time, it features strong built-in magnets to attach to your iPhone effortlessly.
It's the ideal size to hold your ID and credit cards to keep them close at hand. It can hold up to three cards and is shielded to keep your credit cards safe from unauthorized scanners. You can even stack it on a MagSafe case to keep your phone protected and create a unique look.
Pros
Premium genuine leather
Sleek yet spacious
5 color options
Compatible with MagSafe cases
Cons
2. MOFT magnetic wallet & stand – Most Versatile
Check out this versatile multifunctional product that's an iPhone MagSafe wallet combined with a nifty stand. It's super slim yet holds three cards. Moreover, you can prop it up to turn into a kickstand and use your device hands-free.
Use it in portrait, landscape, and the new floating mode for the ultimate comfortable viewing angle while you browse, video call, or play games. It's super nifty when you're on the go or even at home. This MagSafe wallet from Moft is available in four classic colors: black, brown, blue, and grey.
Pros
Dual-purpose

Holds up to 3 cards

Keeps cards hidden

Slim and sleek

Color options
Cons
A little difficult to insert and remove cards
3. Spigen Valentinus magnetic wallet cardholder – Best value
I love Spigen products for their balance of durability and affordability. So, if you don't want to splurge on the Apple MagSafe wallet, Spigen's Valentinus is an excellent option. It's made of mindfully sourced vegan leather and can hold two cards.
You can easily access your cards via the extra access port. At the same time, the slim form factor ensures your phone is easy to slide in and out of your pockets. It's perfect for a minimalist look and attaches to MagSafe cases too.
Pros
Slim
Durable material
Works with MagSafe cases
Cons
4. Mous MagSafe card wallet – Best for an executive look
The unique thing about Mous is that it innovated magnetic wallets for iPhone before MagSafe came about. So, this premium full-grain leather cardholder is one of the best MagSafe wallet alternatives. It gives you the quality that's on part with Apple's case at a lower price.
It holds two cards and stays securely attached to your iPhone, thanks to the anti-slip design. Of course, it also securely and reliably connects with MagSafe compatible cases. Plus, you get a limited lifetime warranty.
Pros
Genuine leather

Anti-slip design
Full MagSade compatibility
Limited lifetime warranty
Cons
5. Casetify – Customizable MagSafe wallet
If you prefer a custom look, here's a magnetic wallet that you must check out. You can choose custom lettering or text on it, which is super simple to do on the product webpage.
Moreover, it's printed with eco-friendly ink and comprises 50 percent recycled material. You also get free shipping worldwide in fully recyclable packaging.
In fact, the company focuses on sustainable practices such as rainwater collection, recycling systems, etc. Choose from black, brown, and pink colors for this MagSafe wallet that's both personalized and kinder to the planet than other products.
Pros
Personalized
Easy to customize
Sustainable materials

Free worldwide shipping
Cons
6. Spigen Smart Fold – Multifunctional MagSafe wallet
This iPhone MagSafe wallet is great if you want a discreet look. It keeps your cards hidden away from sight so that no prying eyes can try to get their hands on them. The tri-fold design transforms the wallet into a handy kickstand for viewing your phone hands-free.
It can store two cards, and you can easily reach them via the little access port. It's super slim and lightweight, too, so that it doesn't add much bulk to your phone. I love the build quality and secure attachment to an iPhone 12 series device with or without a MagSafe case.
Pros
Very secure hold

Excellent build quality

Easy to access the cards
Cons
Not compatible with iPhone 12 Pro Max
7. Vibeside MagSafe wallet – Comes with a lifetime warranty
If you want a MagSafe wallet for four cards, Vibeside has the best option. This is because it features double pockets that offer you enough space. You can even stuff some cash in there, which is perfect for replacing your bulky wallet!
It's safe and convenient to use with a robust magnetic grip and a steel plate for safeguarding your credit cards. I especially appreciate the soft and water-resistant vegan leather material. Choose from five elegant color options and enjoy a lifetime no-questions-asked warranty.
Pros
Double pockets to fit up to 4 cards
5 color options
Soft vegan leather
Cons
8. SUPERONE – Best budget MagSafe wallet
Want an iPhone leather wallet with MagSafe but can't spend a lot? SUPERONE offers the finest genuine leather magnetic card sleeve that can be yours for under 20 dollars! It's made of premium top-grain leather that feels soft and non-slippery. It's available in black or blue color options.
Official MagSafe magnets make it effortlessly snap into place on the back of your iPhone 12. You can even stack it on top of a clear, silicone, or leather case with MagSafe to create a custom look.
Moreover, you can rest assured about the quality as the brand offers an 18-month money back or new replacements policy.
Pros
Genuine leather
Spacious

18-month return or replacement

policy
Cons
9. AhaStyle – Best silicon MagSafe sleeve
Here's another affordable MagSafe wallet made of slip-resistant silicone material that holds your cards tightly in place. At the same time, it's ultra-slim at just 0.28″ thickness.
You can easily access your cards through a small cutout at the bottom and the back. Further, it has RFID shielding technology to keep your cards safe from unauthorized scanners. Choose from black, blue, grey, and pink colors.
Pros
Lightweight
Nice color options
Ultra-slim
Cons
10. Miroddi leather MagSafe wallet – Most stylish
If looking stylish is your priority, I've found this MagSafe wallet a great choice to go with any outfit! It's available in four classic color options, and you can also bundle them up to buy with a MagSafe clear case for your iPhone.
Further, it's crafted from specially finished faux leather that looks and feels good. It features strong built-in magnets that allow it to snap into place on the back of your iPhone effortlessly. It fits 2-3 cards and is shielded to keep your cards safe.
Pros
Stylish look
Premium material
Durable
Strong magnets
Cons
To sum up, you have plenty of variety for iPhone MagSafe wallets. But do you need a MagSafe case for the MagSafe wallet? Well, not necessarily. Most wallets can attach to your iPhone 14, 13, and 12 series phone directly and also onto a MagSafe case.
If you've got more questions, feel free to ask me in the comments below.