Dell XPS 13 vs. MacBook Air M2: One winner is evident!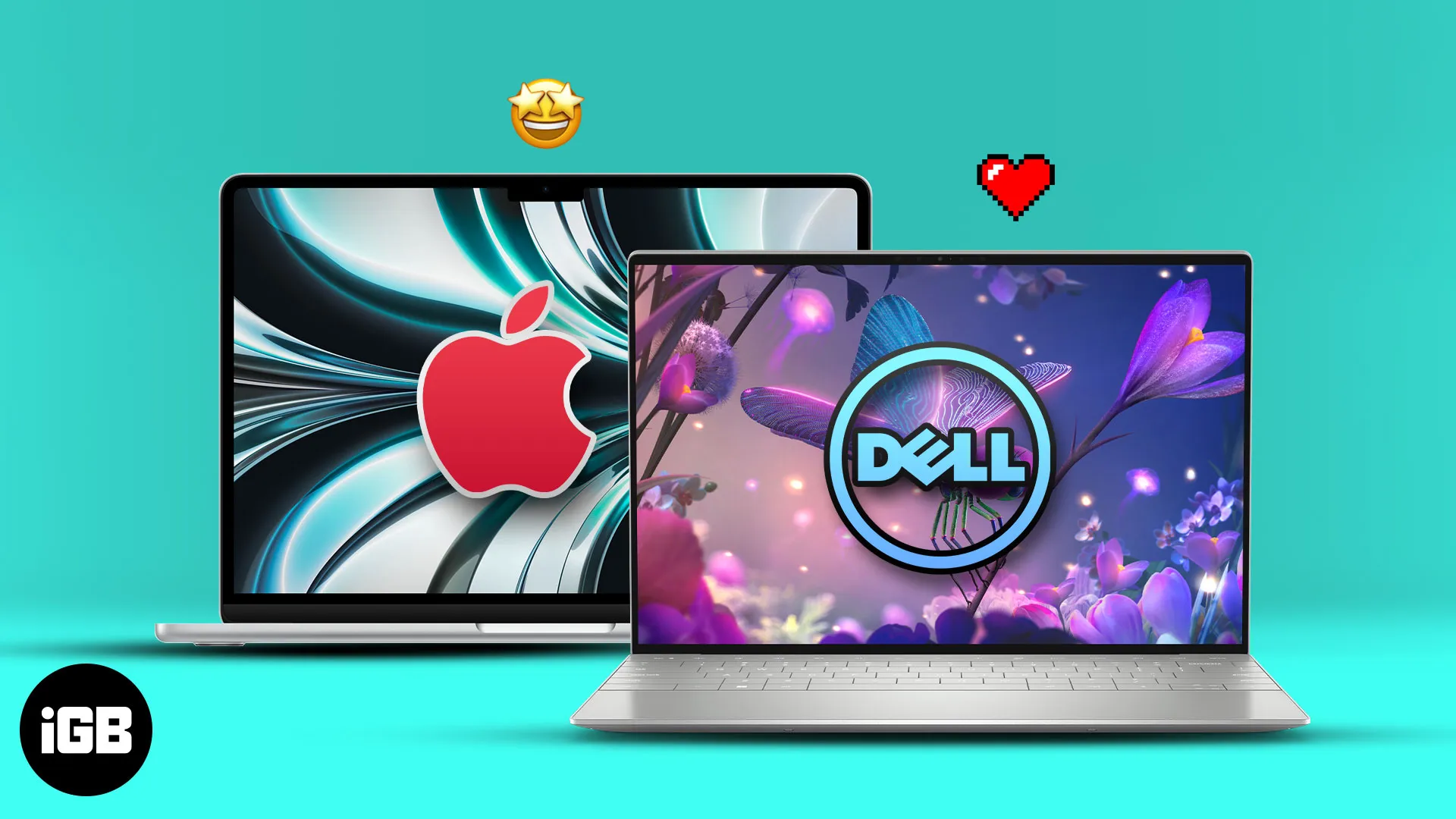 The first option that springs to mind when selecting a high-end laptop is undoubtedly a MacBook. Nonetheless, many frequent users are accustomed to using Windows laptops. There has therefore always been an intense rivalry.
Dell updated the XPS 13 model and offered a new iteration in 2022 as a fantastic Windows substitute for the MacBook Air M2. So is a Windows laptop preferable to the MacBook Air M2? I'll contrast the MacBook Air M2 and Dell XPS 13 so you can decide!
Dell XPS 13 vs. MacBook Air M2: Specifications
MacBook Air M2
Dell XPS 13 (2022)
Size
11.97 x 8.46 x 0.44 inches
11.63 x 7.86 x 0.55 inches
Weight
2.7 pounds
2.59 pounds
Display
13.6 inches (2560 x 1664)
13.4-inch FHD (1920 x 1200)
CPU
Apple Silicon M2 chip 8-core
12th Gen Intel Core i7-1250U 10-core
GPU
8-10 core M2 GPU
(configurable up to 10-core)
Intel Iris Xe integrated graphics
RAM
8GB to 24GB
8GB to 32 GB
Storage
256GB to 2TB SSD
512GB to 2TB SSD
Ports
Two Thunderbolt / USB-4
3.5 mm headphone jack
Two Thunderbolt 4 / USB-4
Battery
52.6 watt-hour
51 watt‑hour
Camera
1080p HD camera
720p at 30 fps HD RGB camera
Audio
Four-speaker sound system
Dual stereo speakers
Price
from $1,199
from $999
There are several factors to consider when comparing the MacBook Air M2 to the Dell XPS 13. The majority of the factors, including design, display, performance, connectivity, battery life, and many more, have been taken into account. Now let's be specific in order to distinguish between the benefits and drawbacks. For my own experience and thorough analysis, keep reading.
Design Comparison: MacBook Air M2 vs. Dell XPS 13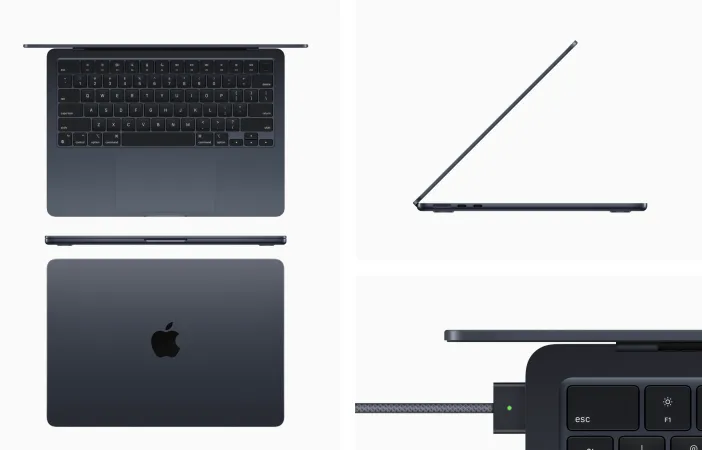 Source: Apple
Because of its small size, the MacBook Air M2 is ultraportable. At a thickness of just 0.44 inches, it is incredibly thin. Moreover, Apple chose a 13.6-inch screen size despite being 20% smaller than the Air M1 model. A big design change, the notch at the top of the screen has a futuristic appearance.
In addition, I appreciate Apple's environmentally beneficial use of recycled materials. The chassis is made entirely of aluminum for strength and scratch resistance. Also, it is easy to grasp and opens with just one hand thanks to the front lip. All four hues are lovely on the outside, but Midnight is my favorite. It has a refined look and is lovely.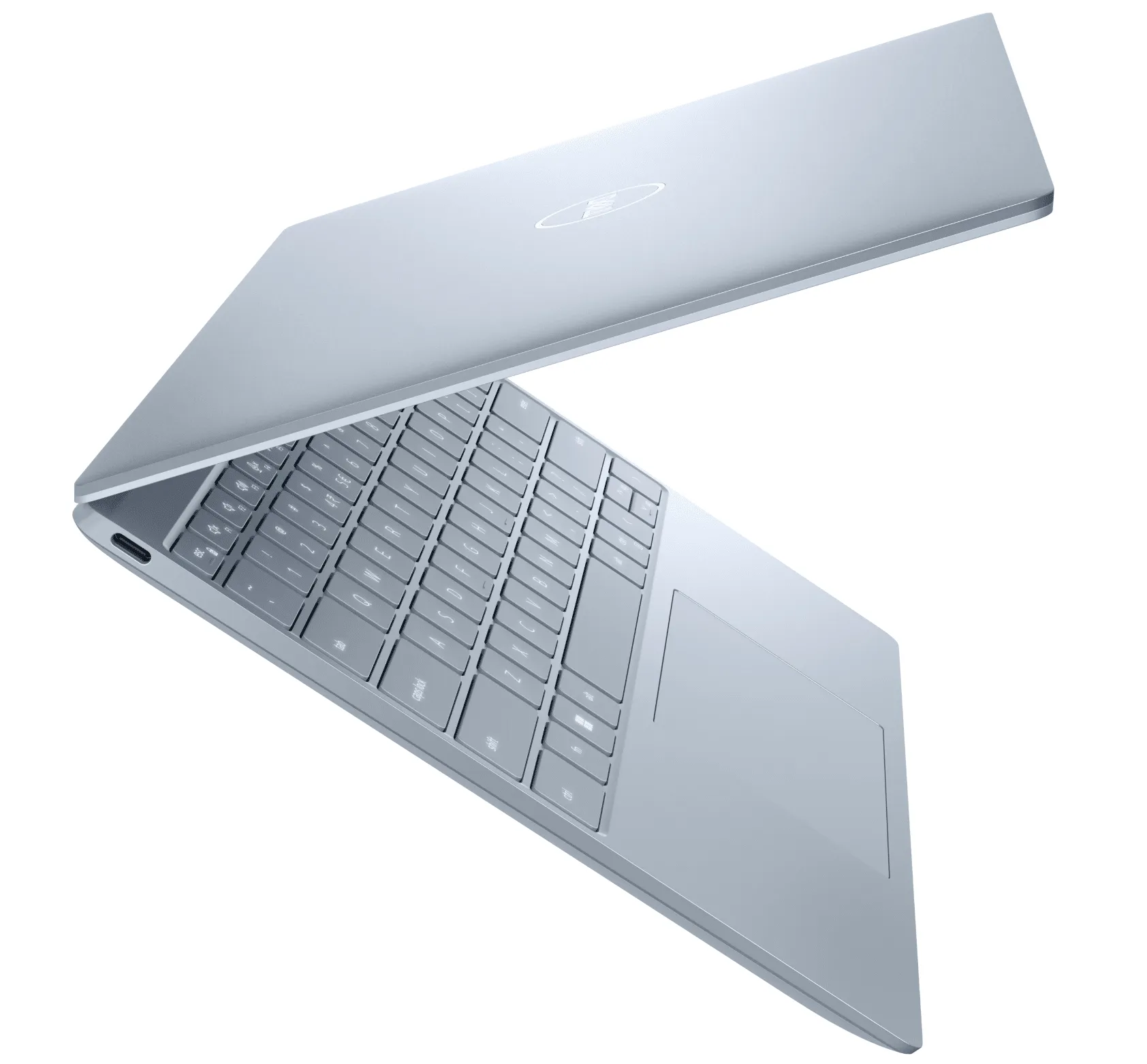 Source: Dell
On the other hand, Dell has updated the XPS 13 to be more streamlined, robust, portable, and light. Its 2.59-pound weight is lighter than the MacBook Air M2's. While having fewer options, the Sky and Umber color offers a distinctive appearance on an aluminum finish. Tones and muted colors both lessen contrast inside for a traditional appearance.
Since both of them are portable, there isn't much of a difference. However compared to the XPS 13, the MacBook Air is significantly thinner. Dell will be the best option if you frequently carry your laptop due to its length and moderate weight.
Dell XPS 13 vs. MacBook Air M2: Display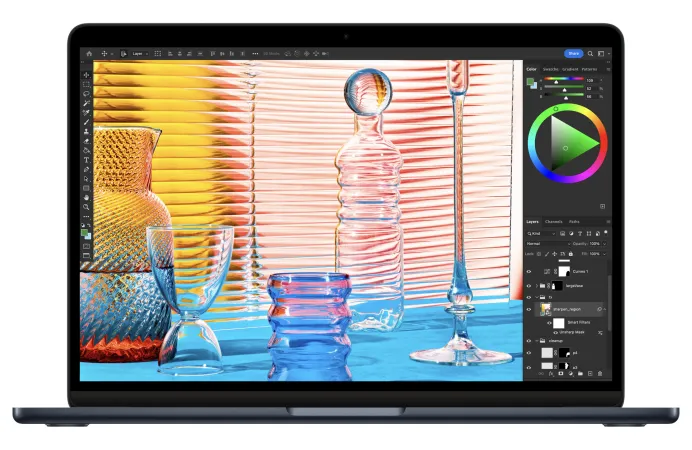 Source: Apple
A bigger 13.6-inch Liquid Retina LED-backlit display is available on the MacBook Air M2. Also, it supports 2560 x 1664 pixels, 500 nits of brightness, and P3 wide color gamut, which results in very crisp text and vivid, sharp, richly contrasted, and colorful images. The HDR capability and IPS technology make it so much fun for me to edit my images and binge watch anime.
The Dell XPS 13 has a 13.4-inch FHD+ InfinityEdge(bezel-less) display, in contrast. I was able to stream in a 16:10 aspect ratio at 1920 x 1200 pixels. As a result, you cannot watch 4K or HDR material on it. Moreover, compared to Mac, its brightness score is lower at about 470 nits. Nonetheless, color accuracy and reproduction are superb.
The display captured 105% of the sRGB color gamut and 74.4% of the DCI-P3 color space. In contrast, the Air M2's display received scores of 107% and 75.9% on those tests, respectively. The XPS 13 has a Delta-E accuracy score of 0.18 compared to the Air M2's 0.22. The XPS Plus model's 4K resolution and touch-enabled display are the only things that set it apart in this case.
Processor and GPU performance of the Dell XPS 13 and MacBook Air M2
The performance of the MacBook Air M2 and Dell XPS 13 is, in my opinion, the most crucial factor. Let's look at the performance overview and benchmark comparison for Geekbench 5.4.
| | | | |
| --- | --- | --- | --- |
| | Single-core CPU | Multi-core CPU | Power efficiency |
| Dell XPS 13 2022 | 1,596 | 6,489 | 77 |
| MacBook Air M2 | 1,911 | 8,965 | 96 |
Apple's next-generation M2 processor features an 8-core CPU with four performance cores operating at 3.5GHz and four efficiency cores operating at 2.4GHz. Intel's i7-1250U from generation 12 powers the Dell XPS 13. There are 10 cores in total, with 2 performance cores running at 1.1 GHz base frequency and 4.7 GHz turbo Boost frequency and 8 efficiency cores operating at 0.8 GHz base frequency and 3.5 GHz turbo Boost frequency.
| | | |
| --- | --- | --- |
| Integrated Graphics | Intel Iris Xe Graphics (96EU) | Apple M2 GPU |
| GPU Base Clock | 300 MHz | 500 MHz |
| GPU Boost Clock | 950 MHz | 1398 MHz |
| Shading Units | 768 | 1024 |
| TMUs | 48 | 64 |
| ROPs | 24 | 32 |
| Execution Units | 96 | 128 |
The MacBook Air M2 performs better thanks to its 8-core GPU, 16-core Neural Engine, and high-performance media engine. Apple lets you set up your Mac with a 10-core GPU for the most powerful video editing capabilities. XPS, on the other hand, has Intel Iris Xe Graphics. Apple is significantly more powerful than Intel, as can be seen in the table.
Apple's 10-core GPU can outperform an Intel Core i7-1255U by 2.3 times while using the same amount of power—roughly 15W. Moreover, the i7 can't operate at its best for very long. I became aware of it as I was exporting an FHD video when I was able to edit 8K and 4K ProRes videos on the Mac.
Be aware that the MacBook Air does not have an active cooling fan. Hence, if the CPU is overworked for an extended period of time, performance may be slightly affected. Yet, despite the fact that Apple's laptop performs better with macOS-specific titles, both devices fall short in terms of gaming performance.
As a result, for performance, you might prefer a MacBook Air to a Windows laptop.
Capacity for memory
The one area where Dell has an advantage over the MacBook Air M2 is Memory. Unlike the Mac, which only has 24GB of RAM, you may configure it with up to 32GB. Apple has made up for it by using an improved LPDDR5-6400 memory type rather than LPDDR5 5200 MHz. Be aware that the M2 processor from Apple uses unified memory.
Instead of being a separate component on the motherboard, unified memory is built into the chip. Because of this, the CPU and GPU may access memory without restriction and generate 100GB/s of increased bandwidth. In addition, the MacBook Air has a benefit because the XPS 13's maximum storage capacity is 1TB whereas Apple offers up to 2TB.
User interface and operating system
In addition to these technical details, I do pay attention to how the laptop feels to use. And based on their operating systems, I have no doubt that you will choose between the Dell XPS 13 and the MacBook Air M2 in the end. Most individuals already know what they like. You should choose the Dell XPS 13 if you prefer Windows. I prefer macOS because of its greater integration because I use Apple goods predominantly.
Because of its high productivity, the macOS is frequently regarded as the best option for creative professionals. I don't require third-party software because I use Apple's built-in programs for the most of my work. Also, it syncs with my iPhone, iPad, and Apple Watch, which facilitates work. In addition, macOS places the highest priority possible on security and privacy.
The Dell XPS 13, on the other hand, runs Windows 11 and provides exceptional compatibility, customisation, and multitasking capabilities. In addition, the OS has a nice look and is user-friendly for beginners. Moreover, Windows is a better gaming platform. It is, however, more constrained than Mac in terms of mobile integrity.
Dell XPS 13 vs. MacBook Air M2: Battery Life
As I do most of my work on the fly, the laptop's battery life is another important consideration for me. I get 14 to 15 hours of use out of my Air M2 on average. The majority of my work is constant online browsing in dark mode with a medium screen brightness. According to Apple, this laptop can withstand 18 hours of movie playback using an Apple TV app.
The XPS 13 can operate at low brightness for up to 11–12 hours. I streamed 4K videos at 50% brightness to evaluate the battery's endurance under tough circumstances. In eight and a half hours, it got to zero. Another thing I observed was how quickly the Dell laptop heated up and how noisy the fans were. Mac, in comparison, uses passive cooling and balanced performance, which makes it quieter.
Touchpad and keyboard
The MacBook Air M2's Magic Keyboard responds quickly and accurately. Without experiencing wrist pain, I like writing lengthy posts. The 78 keys all include ample travel distance, a gentle touch that is quiet, and an ambient light sensor. The majority of controls and shortcuts are located in the full-height function key row.
Not to mention, for greater productivity, its Force Touch trackpad is bigger than other laptops and allows multi-touch gestures. For clicks, acceleration, and accurate drawing, the trackpad also includes pressure sensors. In addition, I adore the Touch ID key since it allows me to securely make transactions, unlock my Mac, and enter passwords.
The XPS 13's keyboard, on the other hand, was just big enough to fit 83 illuminated keys. I did, however, experience some congestion. The softly textured carbon fiber-coated palm rests on Dell's laptop, which are absent in this version, were one feature I loved.
Dell XPS 13 vs. MacBook Air M2: Ports and connection
Only two Thunderbolt 4/USB-C ports are available on each laptop.
Yet, the quick-release MagSafe 3 power connector and 3.5mm headphone jack give the MacBook Air M2 the advantage. One external display with a resolution of up to 6K at 60Hz as well as other USB-C accessories can be connected. I was able to transfer data at a rate of up to 40Gb/s using a Thunderbolt 3 connector.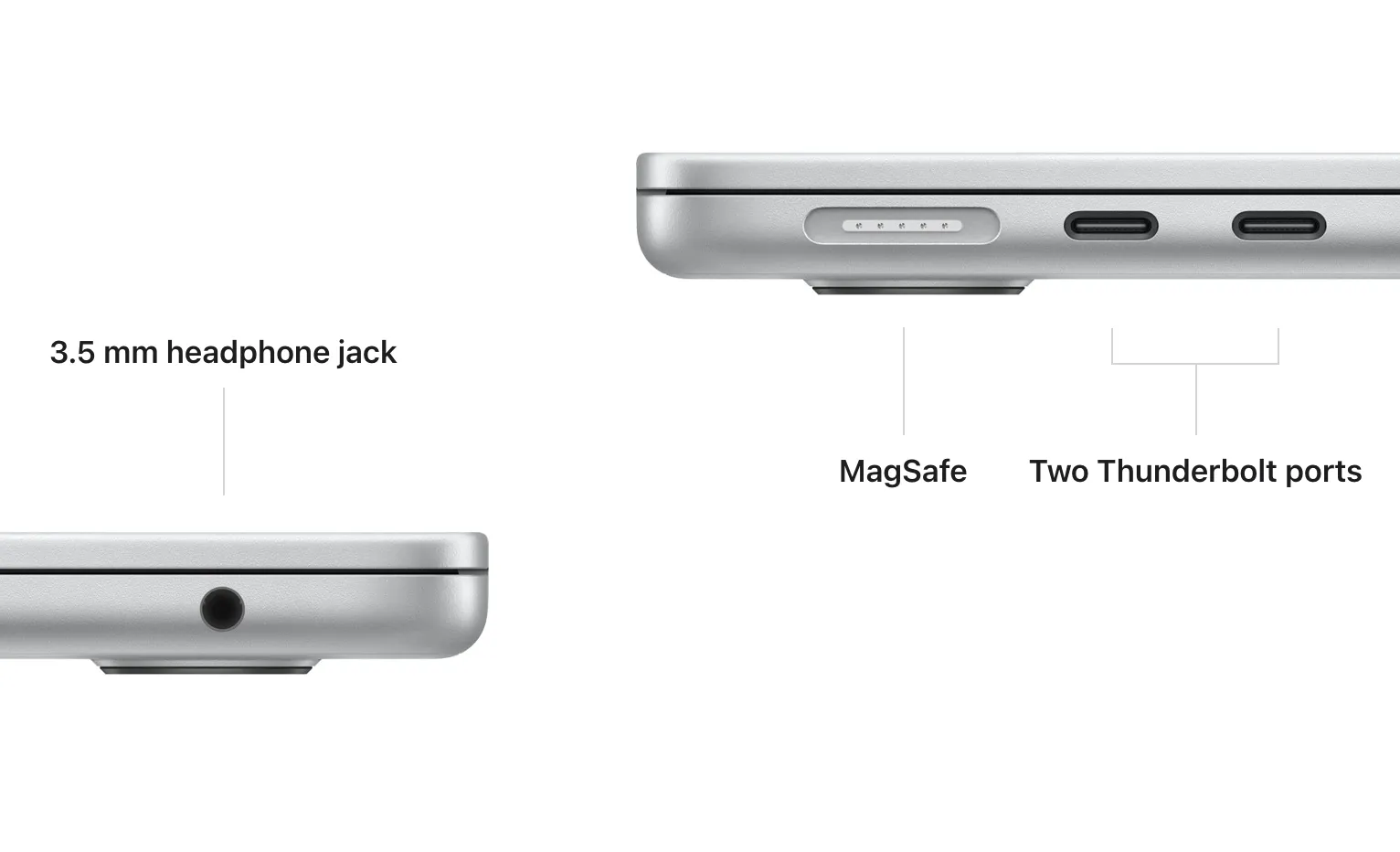 Source: Apple
In order to make up for this, Dell has added support for Wi-Fi 6E 1675, but the MacBook Air does not have this most recent version and can only connect to Wi-Fi 6 wireless networks.
Sound and a webcam
A 1080p HD camera with low light restoration has been added by Apple. It is passable but not exceptional. Nonetheless, this webcam still outperforms the mediocre 720p camera on the XPS 13. When there is good lighting, it functions well, however it records videos that are grainy and faded. Dell asserts that it has included a dual-sensor camera that distinguishes RGB from infrared.
The MacBook Air M2 boasts a three-array microphone with beamforming algorithms so you can enjoy FaceTime and speak up in meetings. Also, the quad speaker system's configuration of two tweeters and two incredibly thin woofers allows Dolby Atmos and spatial audio. All that the Dell XPS 13 has are a dual-array microphone and two stereo speakers.
Price for the Dell XPS 13 vs. MacBook Air M2
| | | |
| --- | --- | --- |
| Specs | MacBook Air M2 (256GB SSD) | Dell XPS 13 (512GB SSD) |
| 8GB RAM | $1199 | $999 |
| 16GB RAM | $1399 | $1099 |
| 24GB RAM | $1599 | ❌ |
| 32GB RAM | ❌ | $1349 (1TB SSD) |
With each model, you can pay more money to upgrade the SSD storage on the MacBook. For $1599 or $1999, respectively, you may purchase a configuration with 8GB Unified Memory and a 1TB SSD. Priced at $2399 is the top configuration of 24GB Unified Memory and 2TB SSD.
Also, Dell offers upgrade choices. But keep in mind that only the 32GB RAM version is offered with a 1TB SSD memory option. The base model's touch screen and 16GB RAM with 512GB SSD storage are both available for $1099 and $1199, respectively. Thus, the Dell XPS 13 is less adaptable in terms of upgrading.
Final judgment
The ultraportable form of the Dell XPS 13 2022 model makes carrying it effortless. Although it doesn't have all the capabilities of a MacBook, its long battery life and reasonable pricing make it a laptop to take into consideration.
Nonetheless, there are numerous benefits to selecting a MacBook Air over a Windows laptop. It features additional ports, a more colorful and sharper display, a powerful performance, a longer battery life, loud speakers, and quick charging with MagSafe.
My MacBook Air fits right in with my digital workspace. I don't have to touch my iPhone to view my photo gallery, take calls, or get notifications. Hence, although costing more, it is the best laptop for the most comprehensive experience.
Thus, ultimately, which of these two top-notch laptops you should get will depend on your specific needs. If you're not fully committed to the Apple ecosystem and really want a Windows laptop, you may choose the more powerful Dell XPS 13 Plus or Dell XPS 15 OLED.