How to see which Instagram users have viewed your highlights (2023)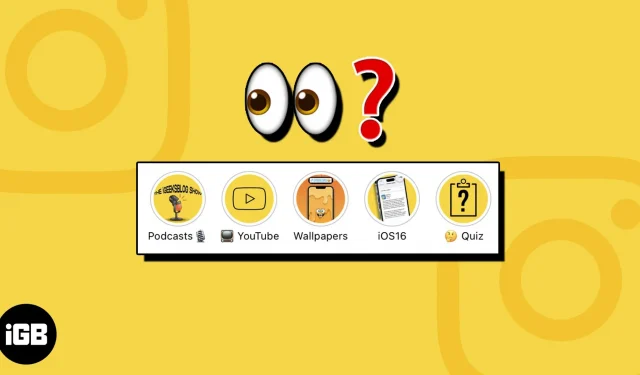 I enjoy documenting every moment of my travels on Instagram Stories and saving them as Highlights. But, I regularly feel the temptation, like many of you, to see who has viewed them. It can be annoying because after 48 hours of publication, Instagram doesn't provide the viewer list for IG Highlights. Don't worry if you've encountered this problem before.
I'll reveal various solutions for checking who viewed your Instagram Highlights on your iPhone in this article.
What are Instagram Highlights?
With Instagram Highlights, you can keep a few of your favorite Stories up on your profile long after the original Story has ended. Little circular icons representing these Highlights can be found above the feed area of your profile. To make your Highlights more visually appealing, you can add new Stories, alter the cover photo, and rearrange the order.
How to check who viewed Instagram Highlights on iPhone
Open the Instagram app.
Tap your profile photo at the bottom.
Select a highlight.


Tap Activity.
Check the total number of views and a list of your IG Story Highlight viewer.

It's interesting to note that if any profile has responded to your Highlight, a tiny heart icon will appear on their profile picture.
By tapping the messenger symbol next to visitors' profiles, you may also send them messages. By tapping the three-dot icon next to their name and choosing Block or Hide Your Story, you can access their profile or hide your tale.
The only issue here is that after 48 hours, you are unable to observe the number of viewers. Since we are unable to monitor the exposure of the Story content, it is really annoying for creators like me. I've tried and tested a few different approaches, and I finally figured out how to see who watched my Instagram Highlights 48 hours later.
Check who viewed your Instagram Highlights after 48 hours
When your Instagram highlight has been online for longer than 48 hours, Instagram automatically deletes the list of watchers.
There is an additional method, nevertheless, to obtain your Instagram Highlights' analytics. Your profile has to be changed to a professional account.
Open Instagram → go to your profile.
Tap the hamburger icon → Tap Settings and privacy.
Scroll down to Account type and tools.
Select Switch to professional account.


Tap Continue.
Choose your account category and tap Done.
Select OK to approve the conversion.


Wait until Instagram sets up your profile.
Choose Creator and tap Next → OK.


Follow the on-screen prompts.
Now open any Highlight, and you will see Story Insights.
You can check the reach, which represents the number of distinct accounts that have seen the content at least once, even though the insights do not include viewer lists and view counts. The insights also reveal who has engaged with and enjoyed your content. You can obtain more detailed analytics by boosting the story.
How to add a new IG Highlight?
Your Story might be highlighted and shown on your profile. Therefore, it can be watched 24 hours later. Anyone who visits your Instagram profile page can view your previous stories. Also, you may give each Highlight a name, utilize attractive covers, and group several articles under a single Highlight for easier understanding.
Open your Instagram Story → Tap Highlight.
Select New.
Add the highlight's name and tap Add.

Control who can see your Instagram highlights
You may manage the privacy of your IG Story Highlights, regardless of whether they are private, public, or professional. Note that if you have a private account, only your followers can view your highlights.
After you've added a story, choose the hamburger menu in the top right → Tap Settings and privacy.
Choose Hide story and live.


Tap Hide story and live from.
Select the people that you'd like to hide your story from, then tap Done.

Tap someone's username to deselect them in order to reveal your tale to them.
How to remove an Instagram story from Highlights?
You can delete any highlights from your profile if you no longer want them there. The Story won't be permanently erased; it will be preserved to your archive.
Open the highlight → Tap More (three-dot icon).
Select Remove from highlight.
Tap Remove to confirm.

FAQs
Can I see who viewed my Instagram Story that I posted in Highlights after 24 Hours?
Yes. Instagram automatically saves your stories to archives after they have vanished. However, stories added to the Highlights remain viewable indefinitely and display the number of views for the following 48 hours after publication. Also, you can view the impressions if you have a professional account (number of times the story is played).
Can I see Instagram Highlight Stories without the poster knowing?
Because Instagram counts the number of viewers, you cannot watch the Highlight stories in secret during the 48-hour period. After that, though, the poster won't be aware that you watched it. There is a hack that enables anonymous Instagram Stories viewing.
Will I know if someone takes a screenshot of my Instagram highlights?
There isn't a function that alerts you when someone screenshots your highlights as of yet. Moreover, you won't receive notification if someone views your Instagram highlights.
Can I view someone's Instagram Highlights Story without following them?
Yes. You can view their highlights if the account is public. You need to first follow them only if you want to use a private account. You can watch the tales after the ensuing request is granted.