How to View Private Instagram Profile & Photos Anonymously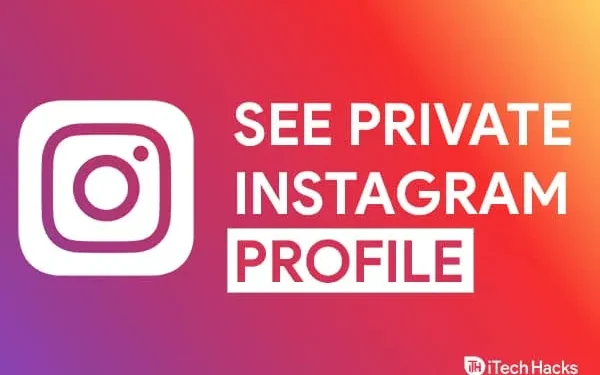 View Private Instagram Account: Instagram is the most popular photo and video sharing app. However, on this app, you can keep your account private or keep it open to everyone. The individual Instagram accounts can be seen only by those who accept your request and follow you back. An open Instagram account profile is seen by everyone without sending a follow request.
As you can't see private accounts if the user is not accepting your request. But what if you want to view the private Instagram accounts if the user is not following you back. How can you view private Instagram accounts anonymously? Do you want to view any Instagram private account? Want to spy on your crush's account? Oh Yeah!!
Or want to check out any private account? If you want to view any private account, then the only way is to send a request, and if they follow you back, you can view their profile. This is the legal and way to view any Instagram account. But if the user is not accepting your request and you want to view their profile, then there are few different ways by which you can see their Instagram profile.
Let us check out the different ways to view Instagram Account Anonymously.
View Private Instagram Profiles & Photos Anonymously
Many users like to see others' profiles without following them. Yet, you also can do this by following several methods.
Method 1: Send A Follow Request
The first method is simple and easy. We recommend you to use this method first. If you don't want to follow someone but want to see their profile, then you can use another method. But first, try this method.
Send a follow request to the user, and as they accept your request, you can easily view their Instagram profile. This is the best and possible way to view any private Instagram account.
Method 2: Use a Fake Account
If you don't want the user to know who you are, then you can use a fake account. Create a fake account and send a follow request, if the user accepts your request, then you can view their profile. You might have seen plenty of fake accounts on Instagram.
However, hiding your identity is important, but the account owner needs to confirm your request first. This means it is not sure that you will be able to see the private account as the user needs to accept your request first.
Method 3: Use An Instagram Viewer Tool
If the given methods do not work, then you can use an Instagram viewer tool. Here we will show you a few of the best Instagram viewer tool that will help you to view private accounts. All the tools have the privacy terms and conditions of Instagram.
Check the tools that you can use to view the Instagram profile.
1. Instalooker – View Private Profile Without Login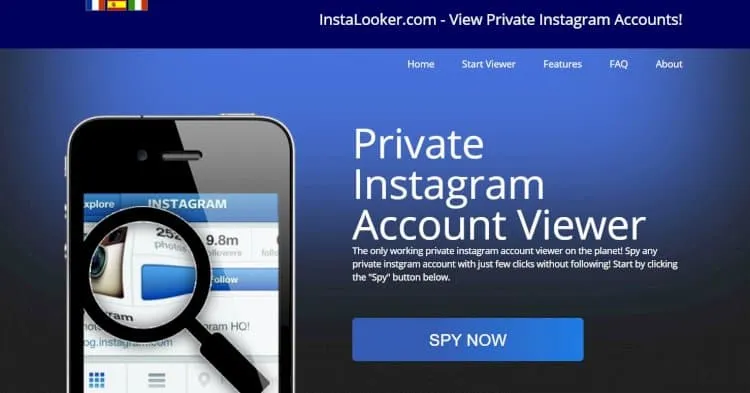 This tool will help you to view Instagram's Private account without following. Use this tool to unlock the profile so you can see the full posts. Make sure you don't open this tool with your mobile app.
Just open the tool and enter the username, and you will see the account profile. Then wait for the process to access the account which you want to view. Once this process is done, you will get access to the account, and you can open it.
This method will also help you to view locked profiles.
Get The Tool: https://instalooker.com/
2. WatchInsta – View Insta Profiles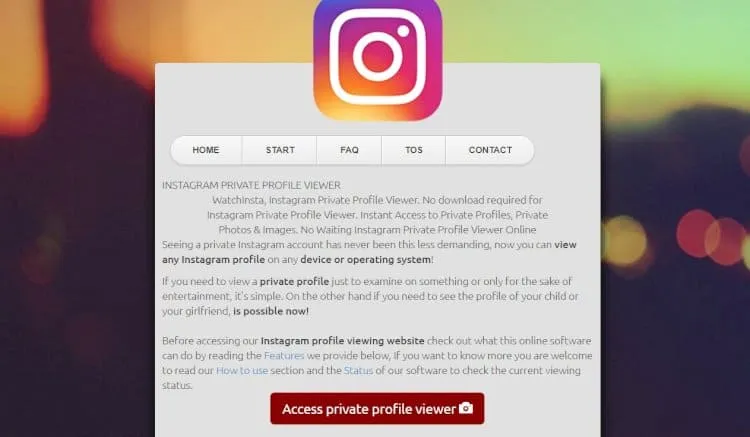 To use this tool, visit the given webpage. You need to enter the account of he/her, which you want to see. Using this tool is safe, and no one can track it. You don't need to use your account, but you need to verify that you are human.
Get The Tool: https://watchinsta.com/
3. Private Instagram Viewer
By using this tool, you just need to enter the username of the profile which you want to view. Quickly you will see the profile of that user. Just visit the given website and enter the username and click on the search option. The private account will be viewed.
Get The Tool: https://privatephotoviewer.com/
See Private Instagram Profiles By Using Private Instagram Viewer
Visit the Private Instagram Viewer by Instalooker and click on "Spy Now"
See photos and videos of the accounts.
It will ask you to enter the Private Instagram account profile.
It will check the validity of the account.
After that, you will see the list of photos and videos.
Check out all the photos and videos.
FAQ:
How can I see private Instagram without surveys?
You can use tools like Survey Remover and can go with some legit ways to see private Instagram profiles and images that we have mentioned above.
2. How can I see private Instagram for free?
You can See Private Instagram Profiles By Using Private Instagram Viewer and similar free tools available on google.
3. How do you unlock a private Instagram account?
Send them a request by creating some fake accounts or legit accounts too.
Conclusion
So, these are a few of the methods by which you can view private Instagram accounts without following them in 2023. If you also want to view someone's profile without following them, then try out these methods and see a private Instagram account. Make sure you follow the given steps correctly and view private Instagram accounts. For more and the latest update, stay tuned to us.
How to Turn Off Auto Swipe or Scroll on Instagram
Top 7 Ways to Fix Instagram Blurry Profile Picture
Is Instagram Sending Notifications for Screenshots Story Highlights?
How to Extract Phone Number From Instagram Account
How to Fix Instagram Feed Not Refreshing Issue
Is Security@mail.instagram.com Legit or Scam?