'Incredibly rare' 4GB original iPhone could smash all previous auction records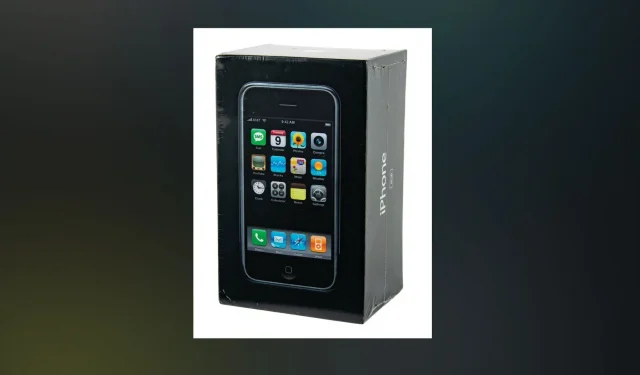 There is no dearth of Apple products collectors and previously we have seen some highly rare Apple products including the original, sealed iPhone being sold for as high as $190,000. Now, another 4GB sealed iPhone first generation which is claimed to be the 'holy grail' of all modern Apple products, is up for auction. Can it break all previous records? Let's find out what is special about this iPhone.
Most expensive iPhone ever sold at auction
Before we proceed with the latest auctioned iPhone, it is important to know a little about the previous record holder. In July this year, LCG Auction put up a factory-sealed original iPhone 4GB for auction. What made this iPhone a highly sought after collectible item is the fact that it is one of the few original iPhone models with 4GB storage that were discontinued soon after the release due to poor sales.
The bid for the iPhone started at $10,000 but the iPhone broke all previous records by being sold for an absolutely crazy price of $190,000, making it the most expensive iPhone ever sold at an auction. Interestingly, this was a 300% increase from the previous record.
Can this rare iPhone break records?
Now, coming on to the latest iPhone model that has been put up for auction. It is a factory-sealed iPhone 4GB first generation model having Model A1203, Part No. MA501LL/A (4GB), Serial No. 7R729FGKVR0.
What makes this model rare is that it is one of the few units that were discontinued by Apple on September 5, 2007, just over two months after the first iPhone went on sale. Thus, it is another unit of the same model that previously fetched a whopping sum of $190,000.
RR Auction has set the estimated price of bidding at $20,000+. At the time of writing, there have been 8 bids so far and the highest bid stands at $17,717. The next bid can be placed for $19,489. The bidding will go on until September 23 and it would be interesting to see whether this iPhone will be able to break the previous record of $190,000.
Along with the rare iPhone, RR Auction has also put up an original iPad signed by Steve Jobs which was gifted to a Hawaii dentist by the Jobs. RR Auction estimates that the iPad could fetch around $10,000 at the auction.
The third interesting Apple item at the auction is an Apple check from July 1976 signed by Steve Jobs. The check was presented to Graphics West for $33.92 during the production of the Apple-1 computer. The estimated bid for the check is around $25,000.