iPad (10th generation) vs. Pixel Tablet — Who wins the victory?
With its amazing selection of iPad tablets, Apple has dominated the tablet market, but Google is rapidly asserting itself in this space. The Pixel Tablet, the newest weapon in Google's arsenal, has created a lot of talk thanks to its assortment of capabilities. This tablet, slated for delivery on June 20, 2023, aspires to provide a strong competition for the iPad (10th generation).
That raises the important question: Can the Pixel Tablet compete with the iPad? Let's compare and evaluate these tablets to get the answer in order to help you make an informed decision about your purchase.
iPad (10th generation) vs. Pixel Tablet: Specifications
| | | |
| --- | --- | --- |
| Criteria | Google Pixel Tablet | Apple iPad (10th generation) |
| Size | 10.2 x 6.7 x 0.3 inches | 9.79 x 7.07 x 0.28 inches |
| Weight | 489.8g | 477g (Wi-Fi), 481g (Wi-Fi + Cellular) |
| Display | 11-inch (2560 x 1600 pixels) 16:10 LCD | 10.9-inch (2360×1640 pixels) Liquid Retina display |
| OS | Android 13 | iPadOS 16 |
| CPU | Google Tensor G2 | A14 Bionic Chip |
| Storage | 8GB RAM; 128GB, 256GB | 4GB LPDDR4X RAM; 64GB, 256 GB |
| Colors | Porcelain, Rose, Hazel | Silver, Blue, Pink, Yellow |
| Ports | USB-C and 4-pin accessory | USB-C |
| Cameras | 8 MP front and rear | 12 MP front and rear |
| Battery | 27Wh battery; Up to 12 hours | 28.6Wh lithium‑polymer; Up to 10 hours |
| Price | $499 (128 GB), $599 (256 GB) | $449 (64GB), $599 (256GB) |
iPad (10th generation) vs. Pixel Tablet: Design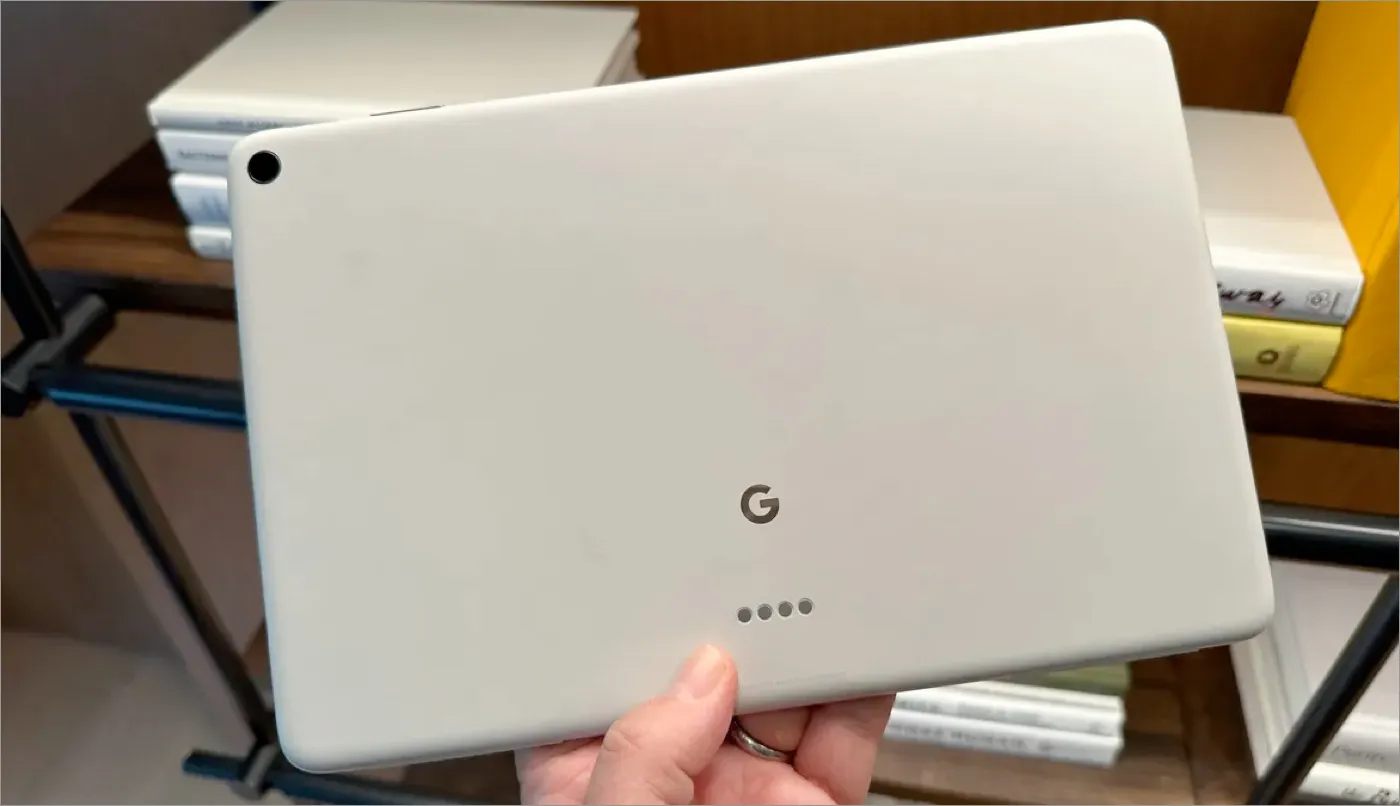 Similar yet distinct That is how I would sum up the looks of the Apple iPad and Google Pixel (10th generation).
The Google Pixel Tablet has a sturdy aluminum shell with a nano-ceramic covering that gives the device a porcelain-like appearance and feel. Also, you can select from three distinctive finishes: Porcelain (beige), Rose (pink color), and Hazel (olive).
For the Porcelain and Rose finishes, the screen's bezel is white; for the Hazel-hued Pixel Tablet, it is black. The device's rounded edges also make it simple to handle. So, these rounded edges will be a dream come true for anyone who spends their nights Instagramming. You have an 8 Megapixel selfie camera that is set to landscape mode.
The pogo pins that link the Google Pixel Tablet to the charging speaker dock are housed at the back (more on that later). The volume rocker, USB-C connector, and built-in fingerprint reader are also located on the back side. Also, a physical privacy button on the tablet makes it simple to turn off the cameras and microphones. On the tablet's back is a glow-up Google logo as well.
An aluminum chassis with straight edges has been present on iPad (10th Gen) tablets from 2018. You get a screen without the Home button taking up a lot of room on the front when it comes to the display. The iPad's wider display and hardly perceptible black bezel give it an edgier look. Moreover, edgy hues like Silver, Blue, Pink, and Yellow let you choose an iPad that matches your style.
One of the design's unique selling points is the 13MP rear camera, which protrudes and prevents the iPad from lying flat on any surface. Also, Apple tested out landscape orientation for the camera on the iPad (10th generation) for the first time.
The Smart Connector, a pogo-pin connector unique to the iPad and not the Pixel Tablet, is located on the left edge.
Result: a tie.
iPad (10th generation) vs. Pixel Tablet: Display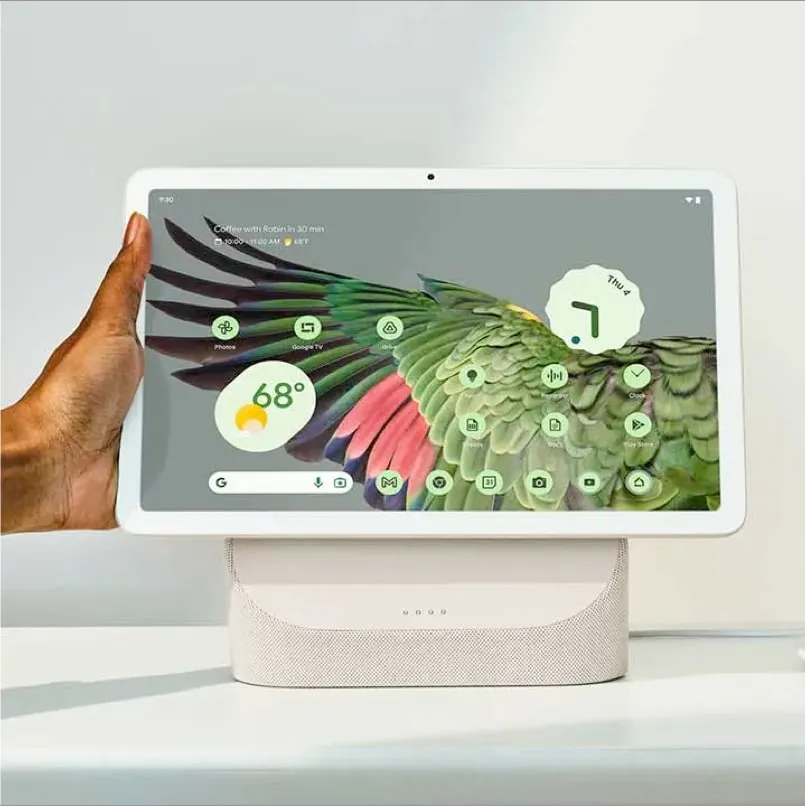 Both the Google Pixel Tablet and the iPad (10th generation) include Liquid Crystal Display (LCD) panels, which provide a high-quality viewing experience.
The key advantages of an LCD panel are its precise sharpness, little geometric distortion, and flat screen design. The devices also have a refresh rate of 60Hz and a brightness level of up to 500 nits.
Whereas the base iPad model has a display with a resolution of 2,360 x 1,640 pixels, the Pixel Tablet has a resolution of 2,560 x 1,600 pixels. At 276 PPI compared to the iPad's 264 PPI, Google narrowly edges out Apple.
The Google Pixel tablet is 11 inches in dimension, whereas the 10.9-inch iPad is comparable in size. With a slim lead, Pixel is clearly in the lead in this scenario. The inclusion of True Tone on the Apple iPad, however, more than makes up for the tiny loss. For those who are sensitive to blue light, True Tone is a blessing.
Result: a tie.
iPad (10th generation) vs. Pixel Tablet: Camera
Tablets are sometimes characterized as having poor camera systems. This is due to the fact that the majority of individuals use tablets for work or school. The reasonably excellent camera arrangement on the Google Pixel Tablet and Apple iPad, in my opinion, breaks these taboos.
For instance, the Pixel Tablet offers a front- and back-facing 8MP camera for high-resolution photo and video capturing. Moreover, both Google Pixel cameras allow you to record 1080p video at 30 frames per second (FPS).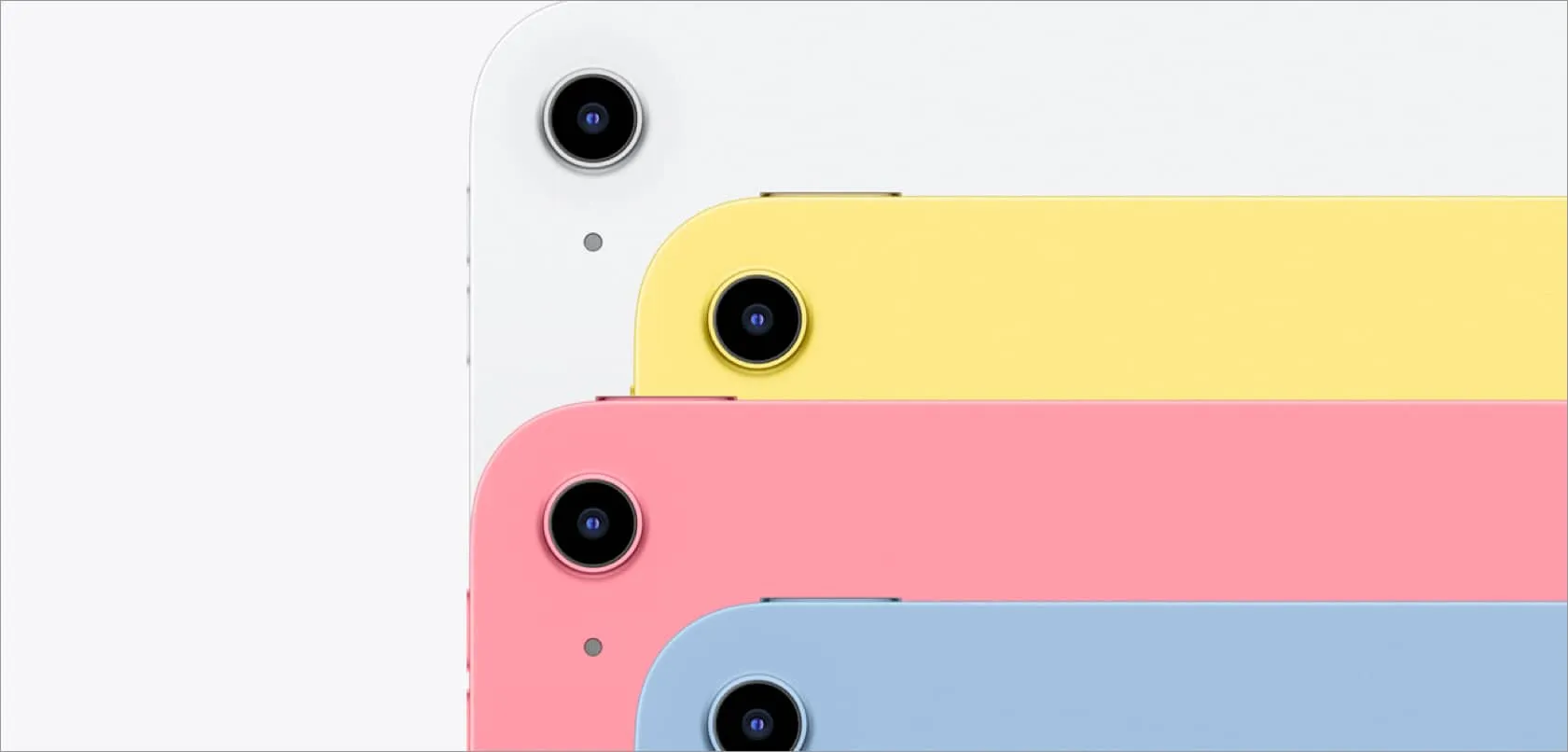 Also, you can use the front camera's Portrait Mode to make your photos stand out from the background. Huge bingo! Additional camera options for the Pixel Tablet include the Magic Eraser, photo-unblurring, and video stabilization (accessible via the Google Photos app).
On the other hand, the iPad (10th Gen) has a 12MP rear and selfie camera system. Both lenses are capable of recording 4K footage at 60 frames per second. Moreover, the front camera has a feature called Center Stage assistance that keeps you in the middle of the screen even while you are moving. This feature makes use of machine learning and the front camera. As a result, you always have Center Stage! Thankfully, Pixel includes the feature as well.
Overall, the iPad is a better choice if you routinely do video conferences for work or school.
iPad wins (10th gen)
Pixel Tablet vs. iPad (10th generation): Performance
Due to their powerful processors, the Pixel Tablet and iPad (10th generation) live up to their reputations. The Android tablet has a Google Tensor G2 chipset, whereas the iPad has an A14 Bionic processor (10th gen). Both chipsets guarantee top performance even under heavy use.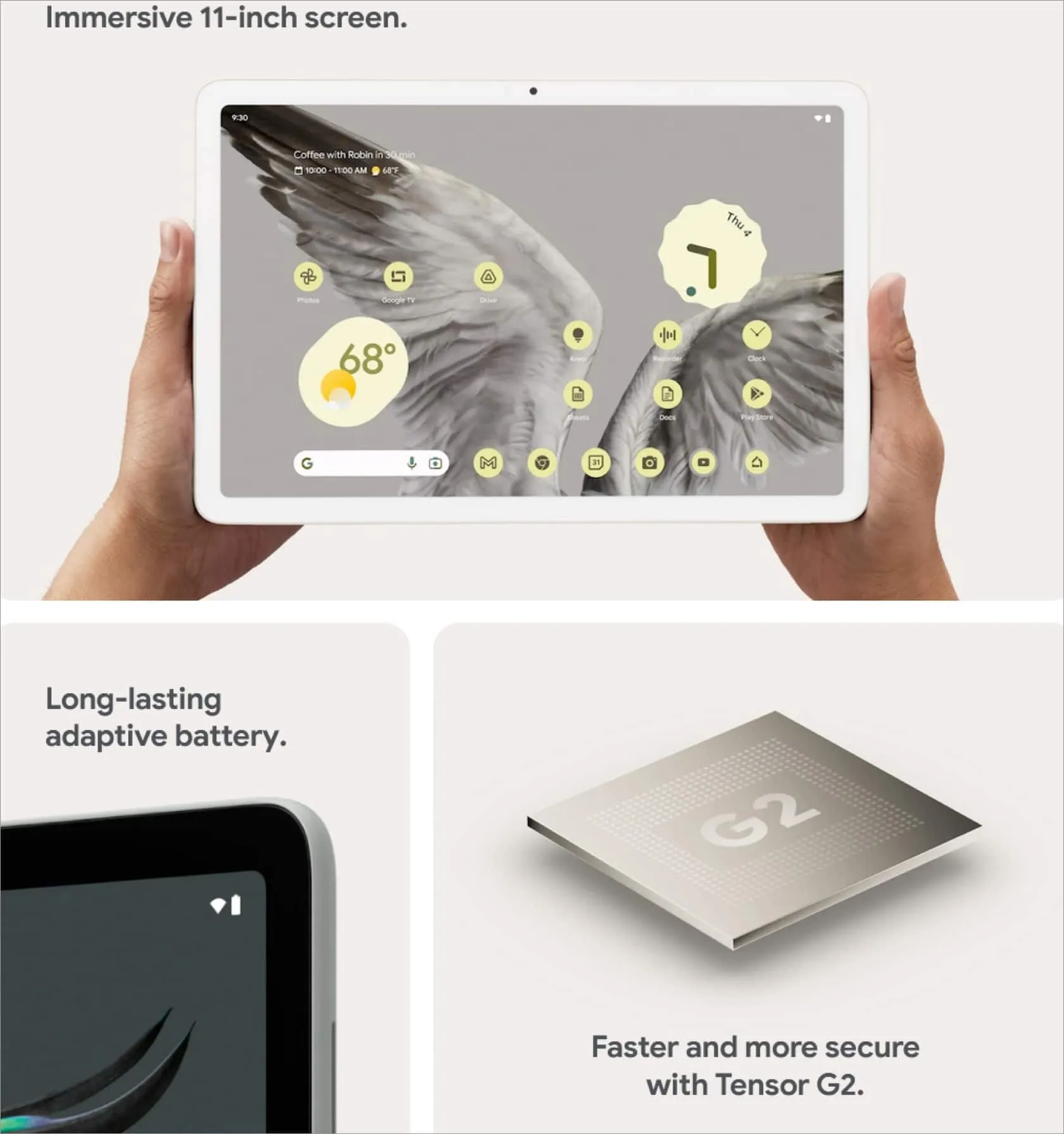 Notably, the tablet's amazing AI-like functionality is provided by the Tensor G2 chip. The Tensor G2 chip, which powers the Google Pixel 7 and 7a, is featured for the first time on a tablet with the Pixel Tablet.
In terms of Memory, Google significantly outperforms Apple. In comparison to the iPad's 4GB RAM, the Google Pixel Tablet offers 8GB of RAM storage. Despite this, you might not notice a significant difference when using the devices on a daily basis.
The advantages of the Apple ecosystem are plainly there with the iPad (10th generation), whereas the Google Pixel Tablet is tailored for more than 50 Google apps. In terms of security, Apple's App Store is easier to use and more reliable than the Google Play Store.
Your loyalty to Google or Apple will have a bigger impact on the software competition. You will value Pixel if you are an Android user. Nevertheless, if you're an Apple nerd, you'll be predisposed toward the iPad (10th gen).
iPad wins (10th gen)
iPad (10th generation) vs. Pixel Tablet: Battery Life and Charging
The 27Wh battery that the Google Pixel ships with may be a major turnoff for many users. The software giant may have recognized the opportunity, though, and began to push the tablet with claims that it could stream video for up to 12 hours at once. On the other hand, Apple's 28.6Wh battery capacity enables you to continuously watch videos for up to 10 hours.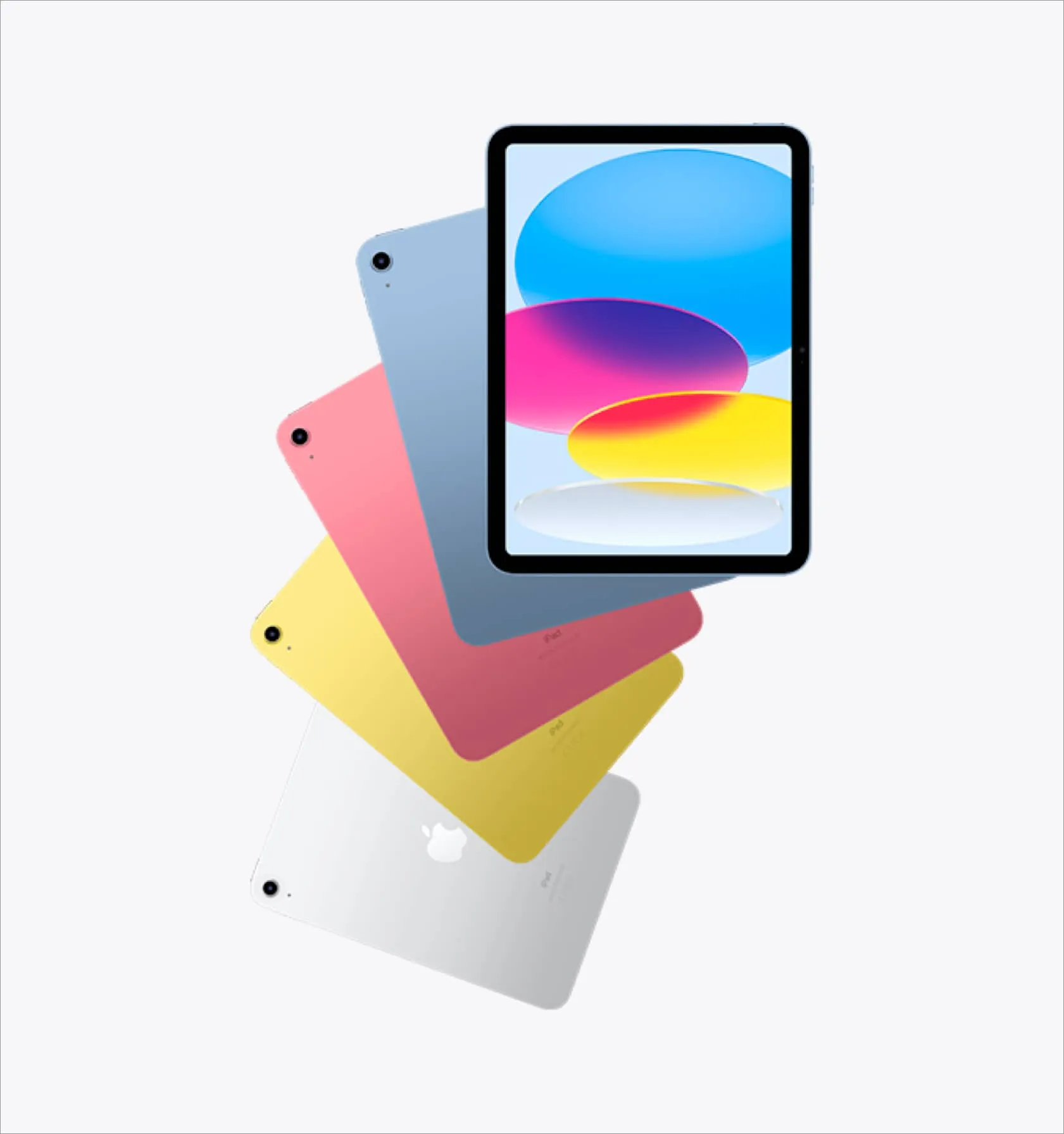 The Google Pixel Tablet's inclusion of a Charging Speaker dock in the retail box is one of its most alluring features. The dock's spring-loaded pins charge the Pixel tablet when you dock it, and it also features a speaker to ensure clear audio transmission.
Nonetheless, Apple includes a 20W adaptor with the iPad in its retail packaging (10th generation). As a result, this segment has a certain winner when everything is taken into account.
Google Pixel Tablet wins.
Audio
If you are your family's personal DJ, the Google Pixel Tablet might catch your eye. The Android tablet has four high-quality speakers built into it that are ideal for your musical adventures. The solitary 1.7-inch full-range speaker on the charging speaker dock that comes with this device is another feature. In order to give you a bombastic musical experience, Google promises that the speaker can provide four times the bass of the tablet's speakers.
When utilized in a landscape mode, the Apple iPad (10th generation) has a speaker on each side.
Google Pixel Tablet wins.
Assistance with accessories
The Universal Stylus Initiative 2.0 is supported by the Google Pixel Tablet (USI 2.0). Further functions that are not present in a basic stylus are added by this facility. Tablets, computers, and other devices can all be used with styluses that are powered by USI 2.0. Moreover, it has features like NFC wireless charging, a wider color spectrum, pressure sensitivity, increased tilt capabilities, etc.
Google Pixel gives users the ability to select their own stylus, whilst Apple iPad offers less customization. Unexpectedly, only the Apple Pencil is compatible with the iPad (10th generation) (1st generation). The stylus is expensive ($99.00 on Amazon), and charging it is a hassle.
The Android tablet has full Bluetooth keyboard functionality. The Magic Keyboard, on the other hand, works great with your Apple iPad (10th generation).
Regrettably, Google doesn't provide the Pixel tablet with a first-party keyboard case. Because brands frequently bundle keyboard accessories with tablets, this might be quite disappointing for Google.
Winner: The Google Pixel Tablet seems like a good deal in this situation.
iPad (10th generation) vs. Pixel Tablet: Cost and Availability
The Google Pixel Tablet is currently available for preorder on Amazon or Google's official website in the United States for a starting price of $499. It comes in three color options: Hazel, Porcelain, and Rose. The base model of the Apple iPad (10th Gen) costs $449 at the Apple Store.
Moreover, the Apple Store sells the first-generation Apple Pencil as well as the Smart Folio for iPad (10th Gen). You must pay $99 for the stylus and $79 for the folio. A Magic Keyboard Folio is available at the Apple Store for $249.
Which should you purchase?
If you're looking for a tablet with a larger screen and better functionality, the Apple iPad and Google Pixel Tablet are both almost ideal. Both tablets' suitability for you will typically depend on their benefits and drawbacks.
For instance, the iPad, with its 13MP camera and A14 biochip, will be your ideal partner if you need a tablet for office tasks, such as video conferencing.
Also, Apple has been active in the tablet market for many years. The Pixel Tab must therefore completely outperform the iPad in every category right now, which is not the case, if it hopes to lure users away from the Apple Ecosystem.
I'm hoping that our comparative evaluation of the Google Pixel Tablet and Apple iPad (10th generation) will make it simple for you to discover the ideal tech mate. Please share your choice with me in the comments area.