losing Google contacts from iPhone? Here's how to retrieve them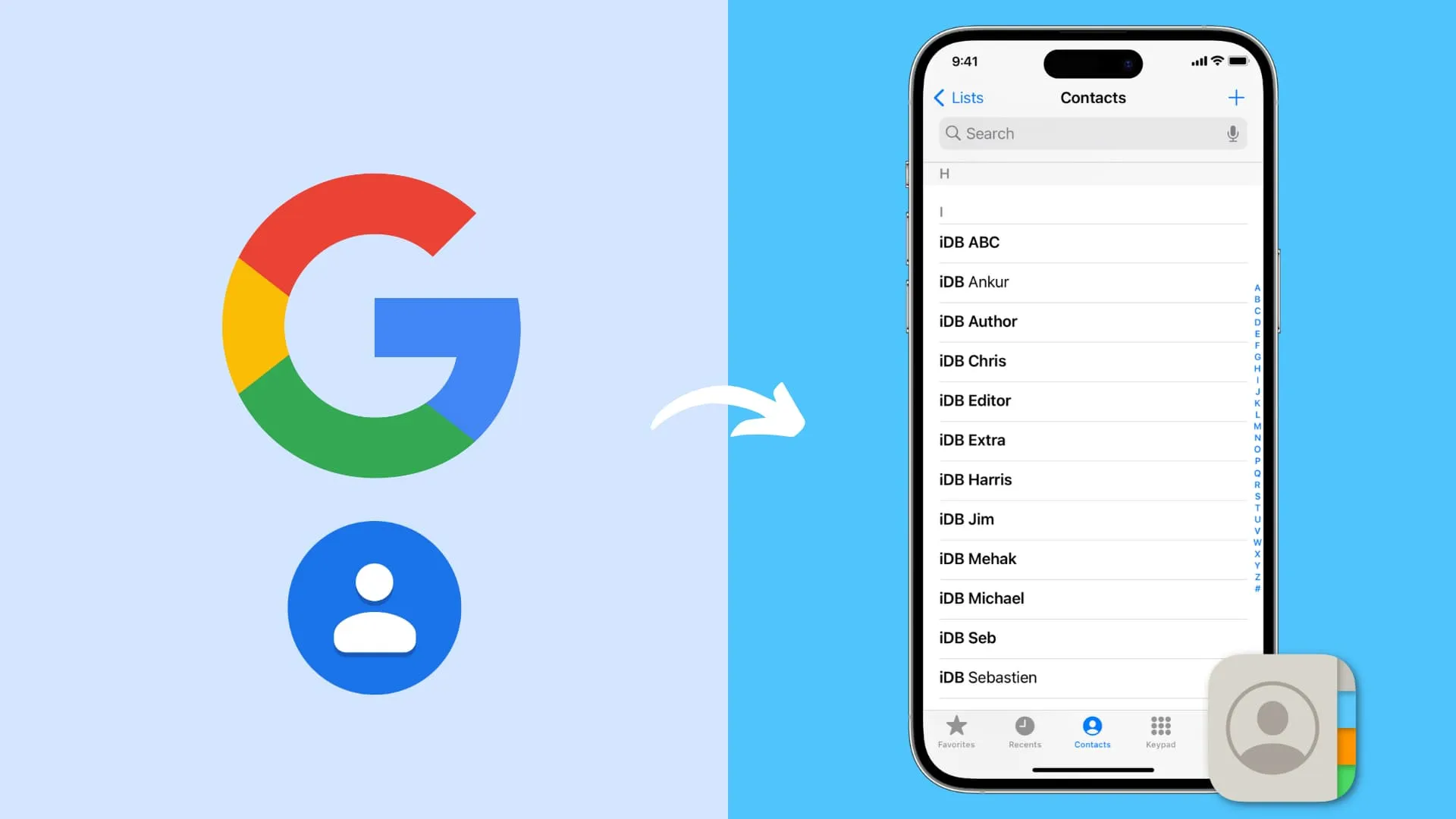 Your iPhone's Google contacts seem to have vanished inexplicably. We'll walk you through the procedures in this article to restore your Google contacts and make sure they once again sync with your iPhone without any problems.
Your contacts are probably kept in your Google account if you frequently hop between Android and iPhone, rely on Google apps, or just made the jump from Android to iOS. Although while Google and iPhone services integrate effectively, there may be a few glitches that prevent Google contacts from appearing in the Contacts app on your iPhone. What we will correct is this.
Restart the Phone or Contacts app after forcing a shutdown
Even while it's uncommon, it's possible that a bug in the Phone or Contacts app is to blame for the additional people's phone numbers not showing up. All contacts should be recovered by quickly shutting the app and opening it again.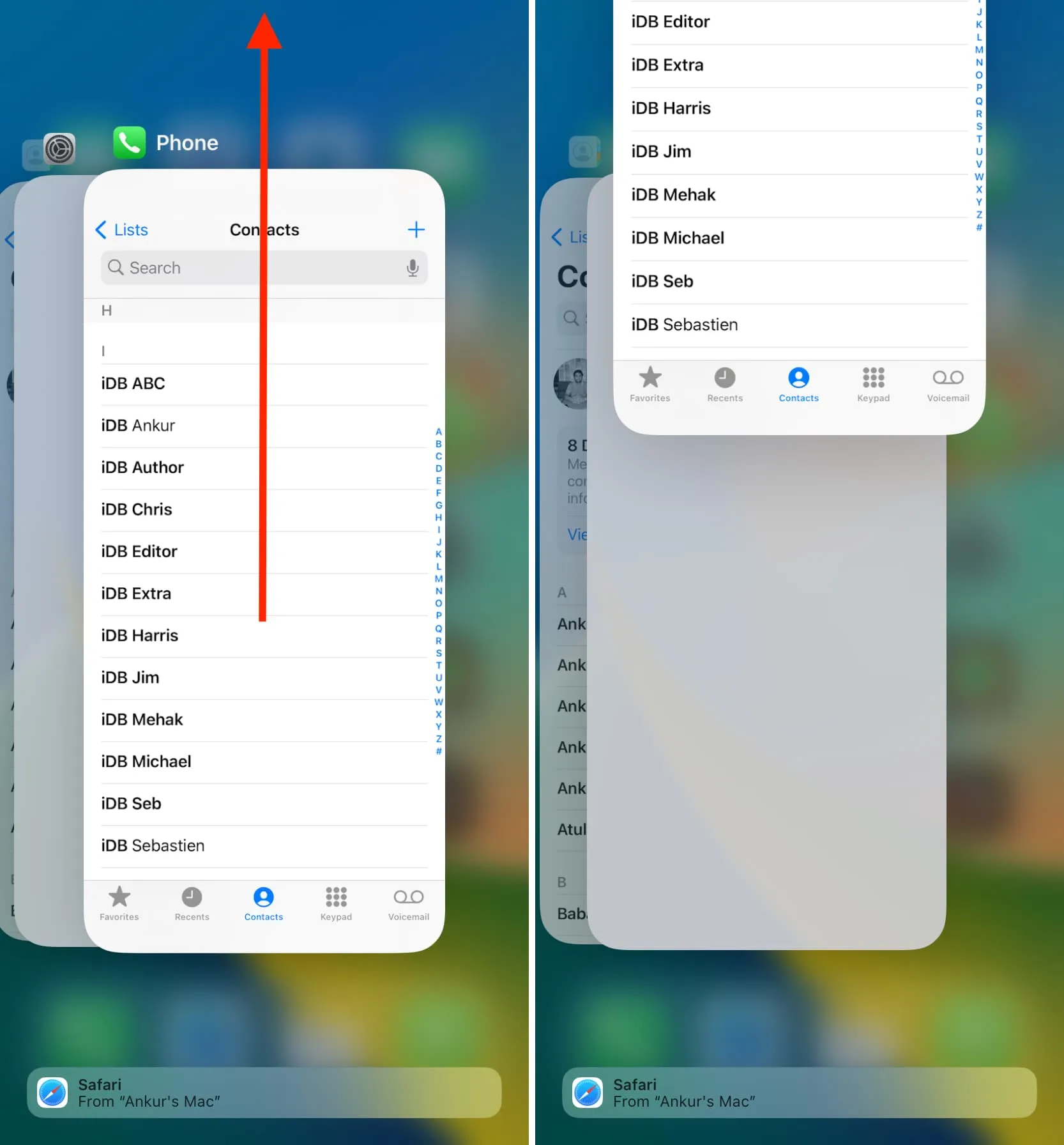 Switch off your iPhone
If any of your Google contacts were missing temporarily due to minor iOS bugs, restarting your iPhone should restore them all.
Configure your iPhone to use your Google account
You may activate Contacts on your iPhone and add your Google account. All of your contacts that you have saved on Google will now be visible on your iPhone.
Open the Settings app and tap Contacts.
Tap Accounts.
You should see your Gmail/Google account added here. If it isn't, tap Add Account and follow the on-screen instructions.
Ensure that the appropriate Google account is added
Several Google accounts are frequently used. Follow the directions above, then tap the account to view your new email address. Verify that it is the right one.
Make sure Contacts is turned on
You still have the option to disable contacts syncing and limit use of this account to Mail, Calendar, or Notes even after adding it.
So, go to iPhone Settings > Contacts > Accounts > tap the Google account, and make sure the switch for Contacts is green.
Activate it if it's off and choose Keep on My iPhone. Go to the Phone app > Contacts or the iPhone Contacts app now, and then wait. This screen will quickly fill up with your Google contacts.
Link your iPhone to a reliable cellular or Wi-Fi network
To download new contacts from the Google servers, your iPhone has to be online. As a result, confirm that your phone's Wi-Fi or cellular data are operating flawlessly.
Then, select Cellular or Mobile Data from the Settings app on your iPhone. Check that Contacts, Phone, and Settings can use cellular data by scrolling through the list of apps.
Verify the contacts in your Google account
1) Open a web browser on your computer or phone and go to contacts.google.com. Sign in with your Google account.
2) Choose the Contacts tab; you should find a list of all your Google contacts there.
3) If your contacts are not listed on Google:
You might have erased them unintentionally. In that situation, access Google Contacts' Trash folder to retrieve your deleted contacts.
You might have mistaken this Google account for another one as well. As a result, check your second Google/Gmail account to see if your contacts are there.
Try to recall which Google account you used on your old phone if you switched from an Android to an iPhone. All of your contacts are saved in that one.
If your contacts are accessible on contacts.google.com and the aforementioned fixes didn't work to add them to the iPhone Contacts area, please continue reading.
Re-verify your Google account on your iPhone.
You may have to re-authenticate your Google account on your iPhone if you recently changed the Google account password, or added or removed a payment method.
To do this, go to the Settings app > Contacts > Accounts. From here, tap a Gmail account and re-authenticate if you see a message. Even if you don't, go ahead and delete this account and re-add it.
Create a default account for Google
You can tell your iPhone that, despite the fact that iCloud Contacts is enabled, you prefer using Google Contacts and that it should give that account priority:
Enter iPhone Settings, then select Contacts.
Choose your newly installed Gmail account by tapping Default Account.
Then, force-quit the Phone, Settings, and Contacts applications.
Relaunch these three programs.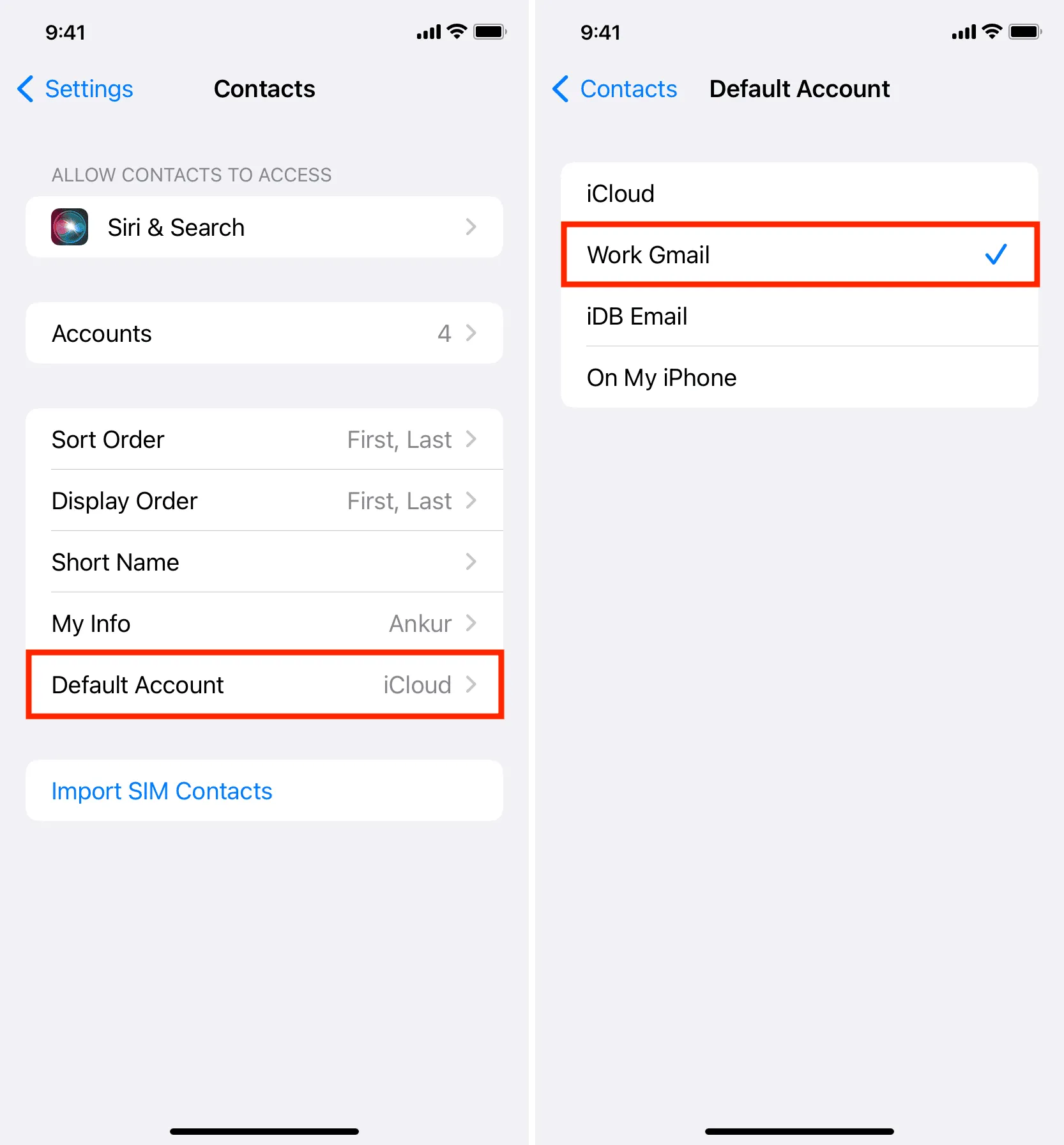 Display contacts from Gmail on iPhone
Make sure the correct list of contacts is chosen in the Contacts app if contacts aren't appearing:
Open your iPhone Contacts app or the Phone app > Contacts.
Tap <Lists from the top left.
Depending on how many contacts account you have added here, you should see them all, like iCloud, Gmail, iPhone, etc.
Tap the Gmail tile if you only want to see your Gmail/Google contacts in the Contacts app. And tap All Contacts from the top to see all contacts from all added accounts.
On your iPhone, delete and then re-add your Google account
Make sure you are familiar with your Google account password and take the following actions:
Go to iPhone Settings app > Contacts > Accounts.
Tap the added Gmail/Google account.
Tap Delete Account > Delete Account.
Restart your iPhone.
Follow Step 1 again and tap Add Account > Google.
Sign in using your Google account.
Once the sign-in is complete, make sure the switch for Contacts is enabled, and tap Save.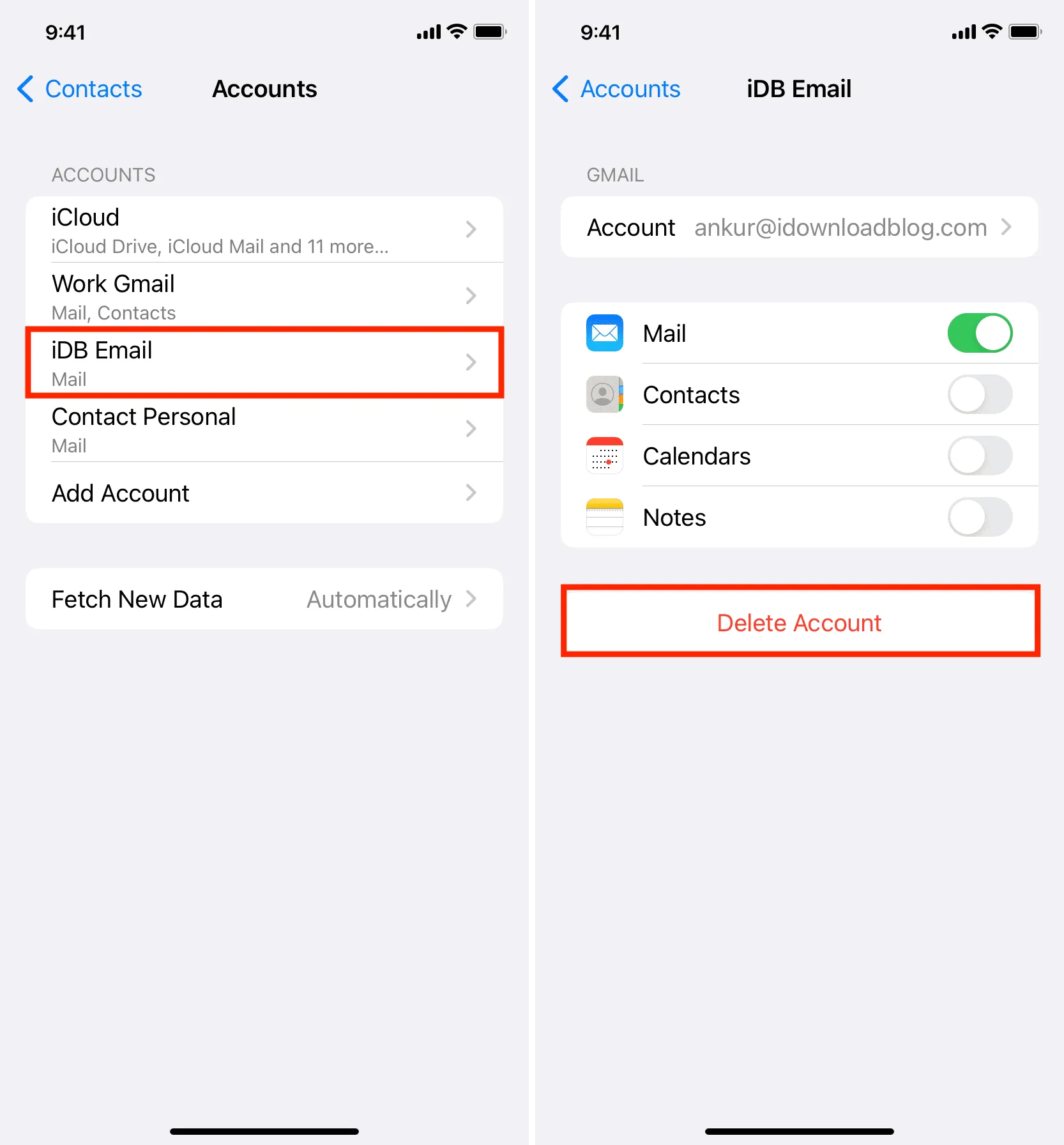 Open the Contacts app or Phone app > Contacts after completing the aforementioned procedures, then wait a short while. Your entire list of Google Contacts will sync and show up here. Don't forget to check your Wi-Fi or cellular connectivity.
Make use of a secure connection (SSL)
All of your contacts will be fetched from your Gmail account and displayed on your iPhone once you have properly added it. Unfortunately, your iPhone might not sync new updates if SSL is turned off. For instance, new contacts you add to contacts.google.com on your Android phone won't appear on your iPhone, and updates you make to Google contacts on your iPhone might not be reflected on other devices that are connected to this Google account.
To activate SSL and resolve Google contacts sync issues on your iPhone, follow these steps:
Open the Settings app and tap Contacts.
Tap Accounts and select your added Gmail or Google account.
Tap the Account tile with your Gmail address.
Now tap Advanced and turn on Use SSL if it's off.
Tap <Account from the top left to go back.
Tap Done.
Now restart your iPhone and keep it connected to the internet. Next, open the Contacts app, and all new contacts should appear here.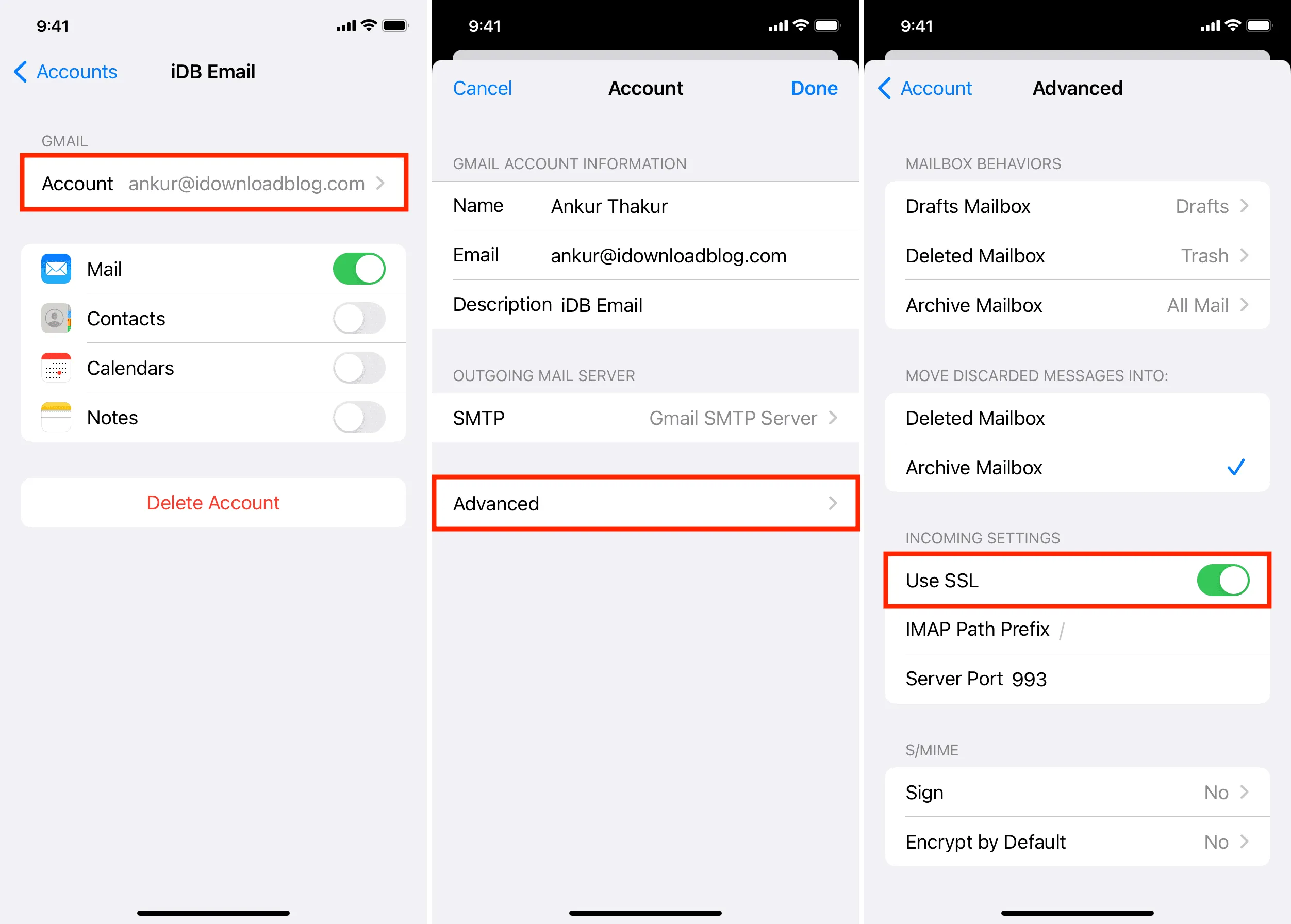 Get information automatically
Go to the Settings app and tap Contacts > Accounts > Fetch New Data. Now select Automatically.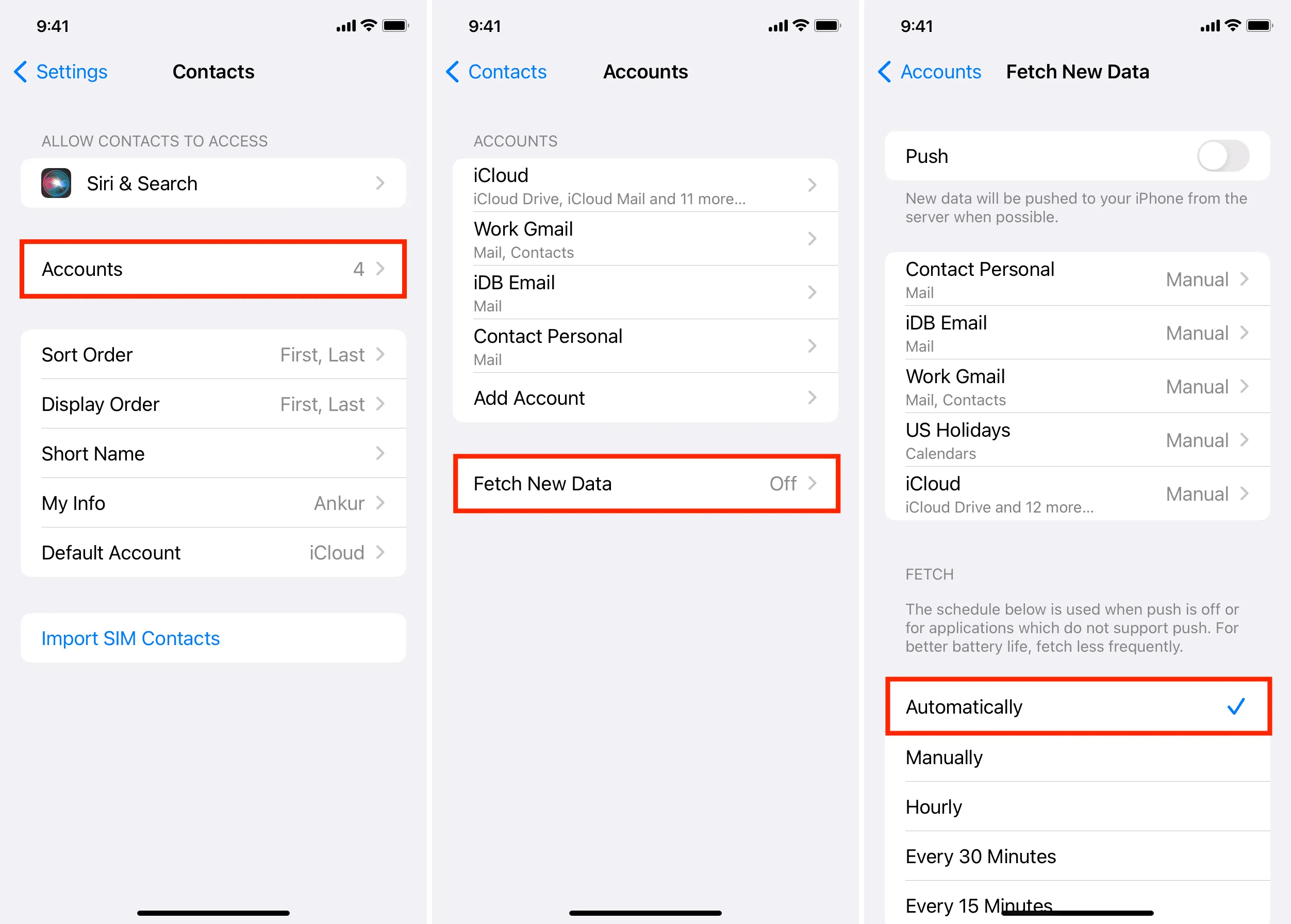 iPhone software update
Despite the fact that the iPhone has had good Google contacts syncing for years, if your device is still running an older version of iOS, take a few minutes to upgrade it. Having the most recent operating system on your phone or computer has absolutely no drawbacks for the typical user.
Reset network configuration
On rare occasions, your iPhone may experience network problems that prohibit it from downloading new content, even if Wi-Fi and mobile data are functioning normally. To fix this, reset the network settings on your iPhone.
Transfer your Google contacts manually to iCloud and then use those contacts.
If everything else fails, you may finally use your computer or phone to move all of your Google Contacts to iCloud.
Next, go to the Settings app > Contacts > Accounts > Gmail/Google and turn off the Contacts switch to stop using it on your iPhone.
After that, go to the first Settings app screen and tap your name from the top. Now tap iCloud > Show All. From here, make sure Contacts is turned on.
From now on, your primary account for storing contacts will be iCloud. Any contacts you add or remove will sync to iCloud and any of your other Apple devices that are signed into the same iCloud account.